The Historical Society welcomes donations to support our work. You can donate online (see below) or you can donate by mail. To donate by mail, send your check payable to "Brethren in Christ Historical Society" to:
Brethren in Christ Historical Society
One College Avenue – Suite 3002
Mechanicsburg, PA 17055
Please indicate on the memo line how you would like to designate your donation.
Projects
---
General Contributions to the Historical Society
The Historical Society welcomes contributions to its general fund. These contributions are most likely to be used in one of two ways: 1) to provide memberships to Brethren in Christ people beyond Canada and the United States and to help with the significant postage costs associated with those memberships, and 2) to assist with the publication of books, including research and production costs.
Blest Be The Tie That Binds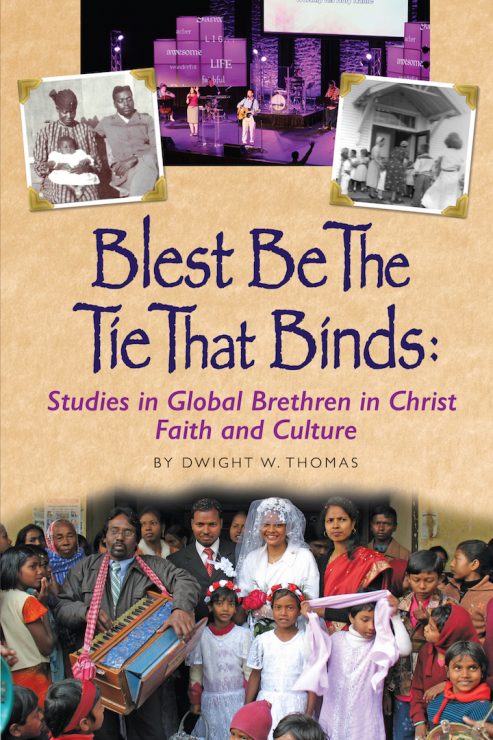 Blest Be the Tie That Binds: Studies in Brethren in Christ Global Faith and Culture, by Dwight W. Thomas. Price: $20. Complete the donation form below using the "Other" amount to include the total for the number of copies you would like, plus $4.00 for one book and $1.50 for each additional book to cover postage and handling. Canadian customers: please add $16.00 for postage and handling (postage is very high from the U.S. to Canada!). Please be sure to indicate on the drop-down menu that your payment is designated for Blest Be the Tie That Binds.
For example: one book: $24 ($20 + $4); two books: $45.50 ($40 + $5.50); three books: $67.00 ($60 + $7.00). For Canadian customers: one book: $36 ($20 + $16)