Journal
The Society's journal, Brethren in Christ History and Life, is published three times a year in April, August and December. The journal contains scholarly articles, biographies of both well-known and lesser known individuals, congregational histories, papers presented at various church-related events, and reviews of books related to Brethren in Christ theology and practice.
Members of the Historical Society receive print editions of the journal and will also have access to full online editions beginning mid-to-late August 2015. Non-members can view the table of contents, and read the editorial and one featured article from each edition. PDF files only of back issues from August 2012 to December 2014 are available to members here.
LATEST JOURNAL EDITION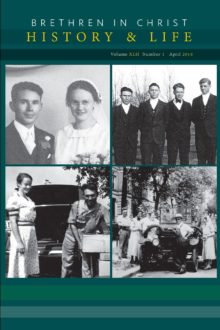 No articles have been published to the website yet for this journal edition. Society members can <a href="/member-login">login to access the journal in PDF</a>.
Become a Member