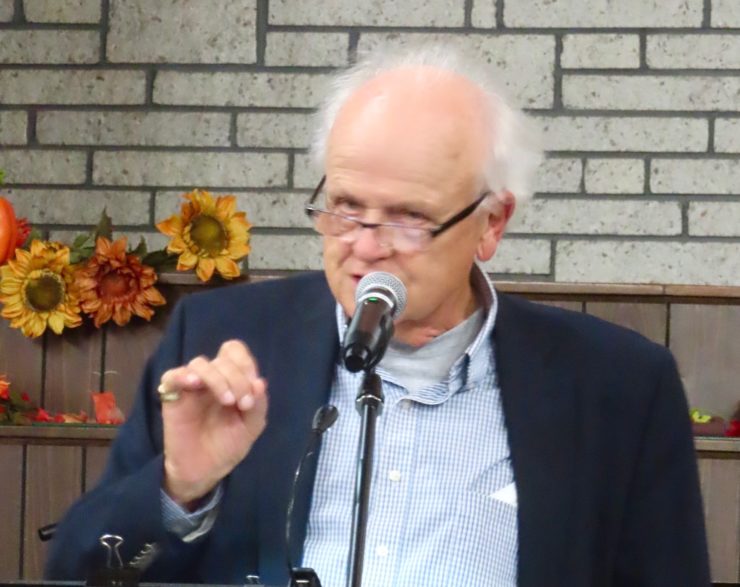 This was a good year for the Historical Society. We welcomed two new members to our governing board: David Weaver-Zercher, professor at Messiah University, and David Downey, senior pastor of the Meeting House, Dillsburg, Pennsylvania. We try to keep a balance between scholars and ministers. We regret the retirement of our secretary, Beth Mark, whose good ideas and skill with words will be missed.
Our Heritage Service this year focused on the work of the Spirit, with a presentation by Rob Douglass. We assisted with a tour of historic Brethren in Christ sites during the General Assembly in Salina, Kansas, this past July. The Historical Society contributed $500 for that event.
Our next Heritage Service at the Ringgold Meetinghouse will be on June 4, 2023, possibly a joint meeting with our historic brothers and sisters from the Old Order River Brethren and the United Zion. Our board includes representatives from both groups and we regularly hear from them.
The features in the journal, Brethren in Christ History and Life, have shifted somewhat to balance between stories from our tradition and critical research. The stories have included those who have not been church leaders but have faithfully served without notice. The critical research has focused on being a resource for Brethren in Christ leaders. The August 2022 edition is an excellent example of this balance with the story of Bertha Heisey, a well-researched analysis of one year in the life of Frances Davidson, qualitative research on our core values, and the printed version of the Schrag Lecture at Messiah University in March about the western wheat harvest featuring the Wolgemuth family from the Cross Roads Brethren in Christ Church.
We continue our formal covenant with Zambia Christian University working with Dwight Thomas. Our relationship with the Theological Study Group—a grassroots group that meets quarterly to discuss theology and other issues—has become stronger; the materials produced are now archived in the Brethren in Christ Historical Library and Archives. We post each edition of the journal on our website where it is accessible to members, and we have a significant inventory of books and past editions of the journal available for sale (contact the editor).
We have several book projects in the works, although it will be several years until they are completed. Devin Manzullo-Thomas is working on two books—a biography of E. Morris and Leone Sider and a history of the Brethren in Christ Church in the twentieth century—and Daryl Climenhaga is writing a history of Brethren in Christ missions. Other research projects and memoirs that will be printed in the journal are also in progress.
We are grateful for those who serve the Historical Society in so many ways. Pray for us as we work to accomplish our goals.