Record attendance marked the release of the latest Historical Society publication of three biographies, Worthy of the Calling, on Saturday, October 4, at the Historical Society's annual meeting at the Grantham (Pa.) Brethren in Christ Church. The book features biographies of three couples who have been prominent in the Brethren in Christ Church over the past several decades: Paul and Lela Swalm Hostetler, written by their daughter Beth Hostetler Mark; Harvey and Erma Heise Sider, written by Harvey's sister AnnaRuth Osborne; and Luke and Doris Bowman Keefer, wrtten by Devin Manzullo-Thomas.
The meeting began with dinner in the Fellowship Hall, capped off by the traditional home-baked pies, and then moved to the auditorium where Emerson Lesher, president of the Historical Society presided over the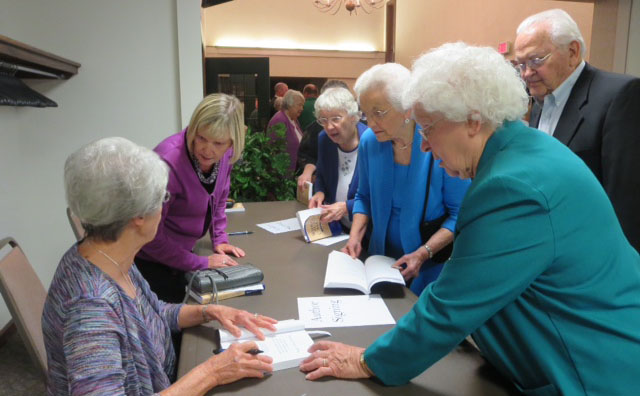 program. Providing a context for the release of the book of biographies, Paul Nisly, a retired English professor at Messiah College and long-time member of the Society, spoke on the art and purpose of biography.
Morris Sider, the book's editor, introduced the book with remarks about the couples in the book and presented a copy of the book to each of the authors, who in turn spoke briefly about their experience writing the biography. The authors then presented copies of the book to their subjects who also had the opportunity to respond.
Members of the Historical Society receive a free copy of the book. Additional copies are for sale at $15.00 each plus shipping. Contact the editor to order.