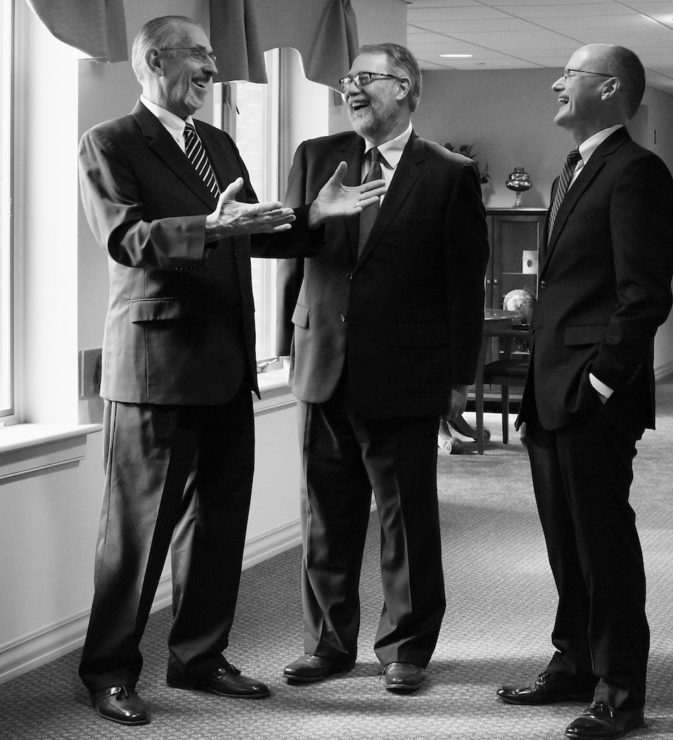 The Historical Society will partner with Messiah Lifeways for this year's annual meeting on November 5, 2016, at the Grantham Brethren in Christ Church, Mechanicsburg, PA.
Rev. George Kibler, Dr. Emerson Lesher, and current CEO Curt Stutzman will be featured guests in a night of storytelling as they share reflections, memories, and likely, some funny stories. This idea was birthed as Messiah Lifeways planned its 120th anniversary celebrations this year. Although the organization has a long history of leadership, including many decades of stewards and matrons who served the Home on Bailey Street and at Paxton Street, only the last three are still living, giving us a unique opportunity. Messiah Lifeways' three modern "chief executives" all live locally and have many attributes in common – from their connections to Messiah College to facing the challenges of construction!
The dinner will begin at 5 p.m. in the Grantham Church Fellowship Hall. The storytelling program, slated to begin at approximately 7:15 pm, will be held in the sanctuary. In addition to some video vignettes, Devin Manzullo-Thomas, director of the Sider Institute for Anabaptist, Pietist, and Wesleyan Studies at Messiah College, will moderate a conversation among the three presidents. Devin also serves as archives coordinator for the college's Ernest L. Boyer Center, and regularly teaches courses in the History, Biblical and Religious Studies, Peace and Conflict Studies, and Interdisciplinary Studies departments at the College. He is currently enrolled in a doctoral program at Temple University. His enthusiastic interest in Brethren in Christ life and history, and his engaging, inquisitive personality make him an ideal moderator for an evening of storytelling.
Register for the dinner and annual meeting. Cost is $15. Persons wishing to attend only the program in the sanctuary may attend at no charge.