Introduction
During World War II, travel was difficult for missionaries because of the German presence in the Atlantic Ocean. Many missionaries were not able either to come back to the United States and Canada for their regularly scheduled furloughs or to go to the mission field. In March 1941, however, David and Mable Hall and their two children, Barbara and John, set out on board the ocean liner "The Zamzam," enroute to Africa.1 There were more than 140 other missionaries on board the ship as well, from such diverse groups as African Inland Mission, Augustana Synod Lutheran, Church of the Brethren, and Roman Catholic, so the Halls had people of like mind with whom they could fellowship throughout their journey.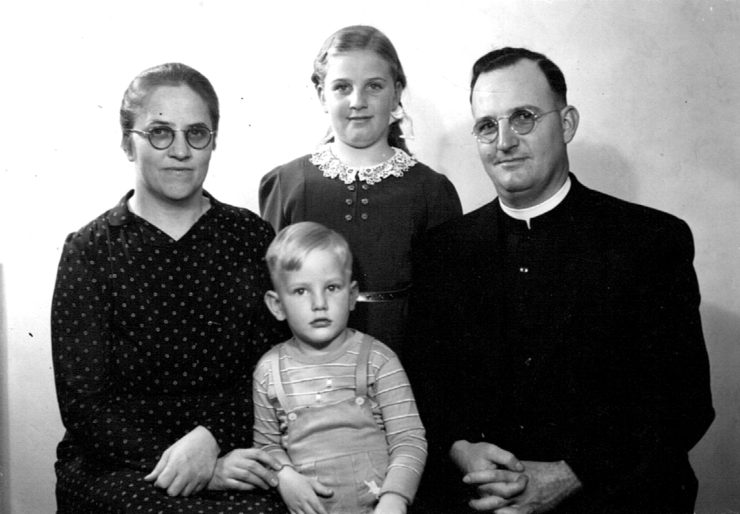 The ship headed toward South America intended for a more southern Atlantic crossing to Cape Town, South Africa, but it was intercepted and attacked off the coast of southwestern Africa by a German ship on April 17, 1941.The Zamzam was sunk after passengers were evacuated along with some of their luggage, and the passengers were transported to Europe where they were detained for weeks until they were permitted to return home.
During their journey, starting the day they left New York City in March 1941 and ending a few days after they docked back in New York in June 1941, Mable Hall kept a diary, as was her custom. Her granddaughter (John's daughter) Lynette Matthewson-Shobe transcribed the dairy and graciously offered it for publication in the journal. What follows is an edited version of the diary, interspersed with additional historical information about the episode along with excerpts from the Evangelical Visitor that provided updates to the church about the Halls' status.2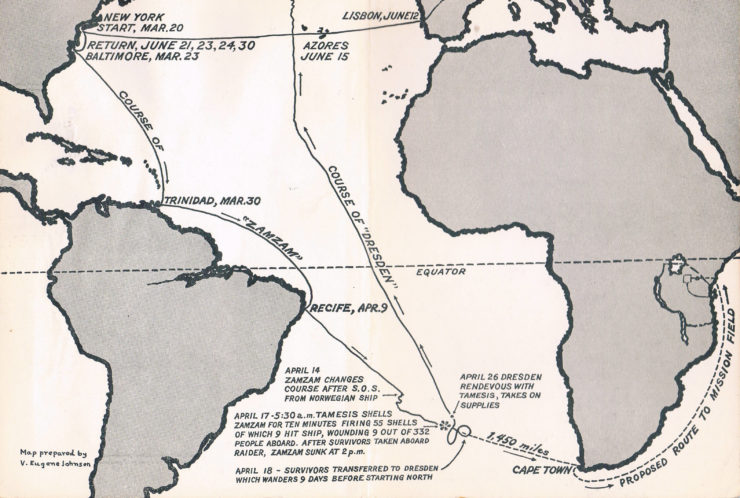 The Diary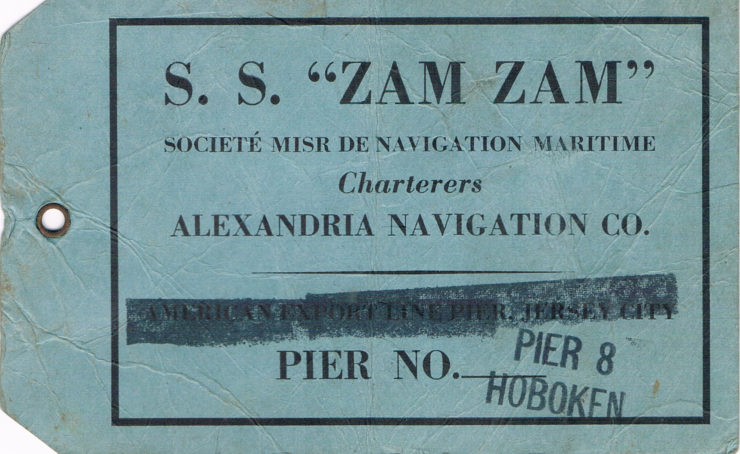 Thursday, March 20, 1941: Left New York. Pulled out of NY Harbor at 10 p.m. We are really on our way. Very cold. Our cabin is so uncomfortable, but the little heater makes it possible to be in by keeping on coats and wrapping in blankets. Meeting a few of the people, especially the mothers and children.
Sunday, March 23 to Sunday, March 30: Travel from Baltimore, Maryland to Trinidad.
Thursday, April 8: Pulled out of Pernambuco [near Recife, Brazil] about 7:15 a.m.  Were detained an hour on account of a steward being late.
Sunday, April 13: Easter on the Zam Zam.
Monday, April 14: Mysterious radio message—Norwegian boat supposed to be in trouble.
Thursday, April 17: The eventful day. Both my five-year diaries are lost and I am beginning a new one. I have kept daily notes in a notebook for fear my diary would be confiscated but am now transferring these notes. I am glad this diary was saved. I found it among a lot of trash.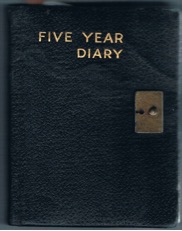 Dave had a restless night and was up like a flash at the shot of the first shell and said, "They've got us." We dressed quickly, got the children up and Dave grabbed life belts. Waited for orders to go to lifeboats but none were given so Dave went up and found everyone was going. We grabbed the blankets, water bottle, and a bag of warm sweaters and went to our life boat. Dave asked whether he should take his brief case, and I said, "No, it might be a hindrance with John," so he removed a few things. I grabbed my Bible, pen, and scissors, and put them in my bag but when I went down the rope ladder I had to leave everything go. Barbara followed me down but the crew was so scared they pushed away—with Barbara on the ladder and John and Dave up on deck.
There was plenty of room in the life boat for all of us. There was a wonderful calmness in my soul and an assurance of God's nearness. Two beautiful rainbows in the sky. The sea was beautifully calm and I felt our lifeboat could contact Dave and the children and we would be together. Never dreamed of the raider picking us up. [I went] up the rope ladder and [was] pulled over onto the boat. I was as weak as a rag. We were taken at once to a little room lower down. What queer feelings we all had recalling things we previously read about. A lime drink was given to us. The lifeboats were inadequately and poorly manned; quite a number got wet and were in the water 20 minutes before they were rescued. It was a happy time when our children came down and families were again united. We went to a larger room and were given gruel and tea. Saw our daddy [Dave]. We were registered, bunks assigned, soap and towels handed out, with women and children given first consideration.  Cookies and other things given to the children. We had a delicious French vegetable soup on deck between 12:00 and 1:00 p.m.
People were in all kinds of attire. What a pathetic picture we were. Baggage and food supplies were taken off the Zamzam. We saw our small steamer trunk but Dave then saw it go in the water. Then everything was blown up at 2:30 p.m.; we saw the last scrap at 2:50 p.m. Oh, what a numb sickening feeling!
Two more life boats were picked up. We spent the afternoon on deck, walking about and trying to keep the children happy. We went down to our bunks at sundown, had supper (sour bread and butter). We were so glad to see our daddy, got the children to bed, helped Mrs. Brill, got water to drink, etc. At midnight, there were two whistles. I got up and dressed in a minute and then got Barbara up. I feel so responsible for both the children. We were told to wait for orders but none came, so went back to bed but not to sleep much. Poor children, some crying. Up early, washed, sharing soap, combs, and hair pins.
Friday, April 18:  We are near the other boat [a German supply ship, the Dresden]—that was the reason for the whistle during the night. We were left on deck all morning to watch the transfer of baggage, etc. We just wondered what we might have had saved. The children were given cookies, but they grew restless and fussy. The officers and crew were nice and considerate of us. We left the boat after lunch around 1:30, given "life preservers," and transferred in a motor launch [to the Dresden] where we were assigned to cabins. Mrs. Steel and Miss Guttormsen are sharing ours. We're crowded but everyone is; the single ladies are in two big rooms on mattresses. Men are in a hold on mattresses, poor souls. The captain is very nice, but he says he doesn't want any monkey business. To bed early, all very tired, but I had a restless night. Breakfast was porridge, jam, bread, and tea; lunch was soup and bread (tasty).
Saturday, April 19: Our daddy came over for a little; hope it will be a daily occasion. The captain called all the women together and gave us a talk of what is expected of us, how we will be cared for, etc. He is very nice to us. The children were given bits of chocolate, cookies, etc. It's been a beautiful day—out on deck all day but in by sundown with a complete blackout. We seem to be just going about to kill time. I went to the hold to look through parcels of clothing but couldn't open the trunks; found my hand bag, dresses, and Dave's suit, but nothing for poor John. Flour gruel, tea, bread and jam.
Sunday, April 20: Everyone is trying to make the best of a bad situation; most are considerate and cheerful. An impressive service in p.m. with Dr. O'Neal speaking from Psalm 23—very appropriate remarks, and nearly everyone attended. Our daddy was over between 10 and 12; so nice we can be together for even a little while. We had our first life boat drill. One wonders how we will all get in, if it becomes necessary to do so. Water rationed out; we must be careful and waste nothing. There is a committee to look after our problems and needs and to work with Captain Jeager.
Monday, April 21: Our daddy was over from 10-12; what a precious time together. Lots of discussion of what is coming. We seem to be drifting about during night and then go real fast early in the morning to change our position. Everyone is busy making pillows and bags. Meals are gruel, beans, potatoes and carrots, tea, bread.
Tuesday, April 22: Lifeboat drill, roll call, and assignments to our boats. The captain gave explicit orders and assured us all would be done for our safety, he told us not to become panicky. We are lifeboat #5 with 35 adults and 18 children; three men will man our ship. I hope we never need to get into the lifeboats. Miss Reynolds gave me a sheet for John; we sleep right on the mattresses—no sheets or pillows except the little ones we made and the men stuffed with cotton. Barbara sleeps on blankets.  Rhodie's violin was saved and how we enjoy it.
Wednesday, April 23: We were able to get into our steamer trunk and found things wet and mildewed. We dried them out, turned our chocolates over to the Captain, had the lifesavers for the children. We're so glad for the steamer rug and other things. The swimming pool opened; Barbara went in both the morning and afternoon, and John went in for a few minutes in the afternoon. They all loved it. Saw a number of sharks, children tossed a ball overboard, and they tried to shoot it, but missed. Had a better night—relaxed a little more. Did some sewing and mending. How I miss my Bible; I must always borrow one. The weather is warm. We don't seem to be going anywhere, just waiting, and now our folks [at home] are getting anxious. Oh, if we could let them know. Supper was corned beef sandwiches.
Despite the sinking of the Zamzam being national news, the Brethren in Christ Church at home did not know the fate of the Halls until sometime in May. A news item appeared in the Evangelical Visitor:
Many of our readers have already learned of the most distressing experience through which Bro. and Sr. David Hall and their children have been passing. They sailed from New York March 20 for Capetown [sic], South Africa, and were about four days out from Capetown when the Egyptian Steamship, the Zamzam, was sunk by the Germans. The passengers were taken off and discharged into unoccupied territory in France. There were many missionaries aboard this steamship, bound for various parts of Africa.4
Thursday, April 24: John was feverish during the night, restless. I hated to keep the aunties awake but they are so sweet, kind, and thoughtful to us. He is better today but I've kept him down in the cabin and in bed. Daddy came and talked to him through the window, brought a cookie. He fixed the tooth brushes and put my watch in a sealed container.
The ladies are making swimming trunks for the men; I made a pair for Dave, but don't think he will use them. Some men came over to swim. Some of the children came in to play with John and had a lot of fun. How quickly the week has passed and how God has blessed and been so good to us. If only our dear ones knew our safety.  Dinner of beans and meat soup.
Friday, April 25: (On the missionary training ship.) The children slept fairly well. John is better, but still has a little fever and drank quite a lot. About 8 a.m., he vomited but seemed to feel better. Mrs. S. and Miss G. washed his sheet. I kept him in the room all day. Little Loletta is very ill. Our daddy came over and what a precious time it is—he is so dear. Lunch of good soup, baby gruel to John, and the children had jello dessert. We had honey for our bread. The boys went over to see their daddies and help them carve. It is Susan Hunter's eighth birthday. Scripture readings of Isaiah 40:31-41:10 and 13, and Psalm 47.
Saturday, April 26: John is much better. Our boat met the other boat in the early morning. I'm so thankful we were spared another alarm. It was an exciting day of waiting and wondering, Mr. Murphy went aboard Tamesis to present the petition and brought back an answer which was very satisfactory.  All we could expect (later it proved to be all lies). We would be taken to a neutral port. We can keep diaries but must not give information about the boat, its position, etc. We watched them bring over supplies, food for the babies, etc., and change guards. All the men except three are to be released—they will be held as prisoners. At dusk we headed northwest by north.
Sunday, April 27: Scripture readings from Romans 8:32 and Psalm 27. A very fine message; God blessed us on this his day. It is sacred although we can't assemble together in his house. We had Sunday school with the tiny tots. I had a precious hour with my dearest. I went to the baggage room but couldn't open the trunk so later Dave got what I wanted. Mrs. Steel feels better since hearing for sure her husband will be released. We are getting bags ready for transfer to another boat if one is contacted. Dr. Wright came up to take the place of the wounded wireless operator who has recovered.
Monday, April 28: Scripture reading from Psalm 107. John not so well again, very restless—perhaps it's his ears. I stayed in the cabin with him most of the day. Had a sweet visit with our daddy discussing our future plans. Had prayers together—it seems we are drawn closer together all the time. We readjusted our few personal possessions. Made another bag and turned the collar on daddy's old shirt. We had scrambled eggs for supper with bread and butter, chocolate cookies for children.
Tuesday, April 29: John slept much better; he still has a little cold. I got some boric sol for his eyes. Did some washing in fresh water run out of the tub before folks had used much. I already had my sponge bath. Five men have dysentery. Dave is not feeling well. The children didn't go in swimming. We had hot Postum and sweets—my, it was a treat. I wish my dearest could have some. The men have a tough time of it. There were rain clouds to the south. It's so nice to gather together for prayers. I enjoy the fellowship.  If only our dear ones at home knew we are safe.
Wednesday, April 30: Scripture readings from 1 Corinthians 4:6-18. So happy to see the light of a new day; we slept well, including John. He had his ears examined—there was a little wax, no inflammation, and we gave him a little oil to soften the wax. We are making good time, but where are we going? I sewed a bag, and mended socks, a slip and Barbara's dress. The sick men are better; Mr. Ohman has malaria and Gordon Smith is not very well, Daddy dear is better, but perhaps he doesn't tell me exactly how he feels so I won't worry. Dear thoughtful daddy, such a sweet time together. What do our folks know about our failure to cable? We had bean soup with potatoes and spinach, soup with macaroni, one piece of white bread. The children got cheese and biscuits.
Thursday, May 1: Scripture readings from Romans 5:1-5, 1 Corinthians 4:18, and Romans 8:18-37. It was a good night. We woke up 5 a.m.; the clock had been turned ahead. I did some washing. Barbara went in bathing. It was very warm in the tropical sun and the children are fussy. A number of people are ill—perhaps too much sun without proper hats. Daddy dear came over and we had good talk; it's lovely to talk things over although we don't know anything definite. John was fussy so I took him in and washed him. Mrs. Steel and G. cut out blouses—they are industrious, Miss Armstrong mended John's suit and I did Barbara's blouse. The children were given cookies, biscuits, and cheese, a piece of apple and vitamin tablets. One steward gave John and Barbara one orange each. Supper was oatmeal gruel, hamburger, and eggs, and butter and jam. All these extra favors are appreciated.
Friday, May 2: It was a fair night; I was awake frequently. It's been so very warm, both day and night. I'm surprised the children are as happy and content. I keep the clothes washed out as best I can. Daddy dear came over and we had a precious time together. The men were called to go for passports and money, but all they got was a receipt. The ladies are still working on their blouses. Scripture readings today from Ephesians 3 and Philippians 4:4-8, 19.
Saturday, May 3: Scripture reading from Hebrews 11:1, 2, 12—looking to Jesus, the author and finisher of our faith. Very warm night but we slept fairly well. Ventilation is pretty good but some [who are staying elsewhere on the ship] have a bad time. Barbara went in bathing twice. We may have crossed the equator. The teachers have such fine daily devotions with the children. Breakfast was oatmeal gruel and jam, lunch was noodle soup, and supper was sandwiches. The tiny tots had carrots and pudding. Daddy dear came over for two precious hours. The days are beginning to drag—no hopes of meeting a neutral boat, I fear.
Sunday, May 4: Rev. Guilding preached on Mark 11:12-22, "Have faith in God." A very fine message, appealing to both the saved and unsaved.  How we long to see some of these dear young men as well as others come to a knowledge of sins forgiven. It's still warm but we slept fairly well. Daddy dear much better and we are happy, so are most of the men. The teachers had a nice S. S. with the children. We had a sweet short hour with our daddy. It seems so long since we have heard about our dear ones [at home] and I am sure they feel the same. We had heavy rain in the afternoon, so I let Barbara get all wet and washed her hair. It was a sticky mess—there must have been oil in the water.
Monday, May 5: Scripture readings from Isaiah 43 and Psalm 143. We had a cooler night and we all slept better. Misty and cloudy in a.m. and much cooler at mid-day.  John had a good nap. Barbara went in swimming. I washed several dresses—such a washing and no ironing. Dave dear does his own washing.  We had a nice visit; the children played so nicely as it was cooler. We received the word of the Canary Islands. Hope it is true and is God's will for us. Miss Moore is very ill with a kidney stone and has been moved to Mrs. Levitt's room. Meals of oatmeal and jam, beans and vegetable soup. The children got cookies and chocolate, and we finished the vitamin tablets.
Tuesday, May 6: The ship has turned north. It was a lovely morning, cool and pleasant. John and I both have a little sore throat and he is very fussy. I did some washing and mending. I am reading in Corinthians—I love the word of God—but I don't have enough time to read and the days go quickly.  We enjoyed the time with daddy, he is so precious to us.
Wednesday, May 7: Cool all day. John was coughing; he got medicine, and his sore throat is much better, although he has a slight headache. Our life belts are numbered 73, 74, 75, and 76. I made John's a little smaller in the neck. I cut our sheet in two and Mrs. S. hemmed it for me with black thread. They built up the frame under the lifeboats. Some folks went to the baggage room but we had nothing to go for. All the folks that were ill are better for which we are surely thankful. There was a birthday party for Eleanor Danielson, age nine. The children saved their cookies.
Thursday, May 8: Scripture readings from Lamentations 3:22-26, Isaiah 55:6-13, and 1 Peter 1:3-9. A     cool and cloudy day—the children must wear coats. They both have coughs. John had a good nap. We were up on deck in the morning, and our daddy was over at the usual time; his presence is such a blessing and encouragement. The engines stopped at 7:15 for about half an hour, which gave us an odd feeling. We keep wondering what the dear ones [at home] are thinking. Breakfast was oatmeal, jam; lunch was macaroni, meat, and gravy; supper was rice soup. The children got cookies. John had a cup of milk. It's been three weeks since we've been on this ship, and we've been gone from New York for 51 days.
Friday, May 9:  Lifeboat drill today. Beautiful calm, glassy sea, then ripples; inspiring sunsets glorified the western sky. We were permitted to stay out a little longer and feast on its beauty. The colors extended along the horizon and made the ocean seem like a lake of fire. We had a blessed fellowship in prayer.  John's and Barbara's coughs are better. We had a meeting about putting things down the toilets—the children got more than their blame.
Saturday, May 10: Scripture readings today from 2 Corinthians 4, Isaiah 50:7, and 1 Pet. 4:12-16. Still headed north. Today is cool and cloudy. We saw lots of sea weed. I washed a mattress cover for Barbara that daddy got for her; also did some washing for Sunday. We had a lovely visit with our daddy—he  grows more precious every day if that is possible. Everyone was loath to leave evening prayers. The children had early baths together.
Sunday, May 11: Message in the morning by Mr. Buyse on Isaiah 45:22, "Look unto me and be ye saved." A very fitting message and a nice service. Staff put up a tent for us on the back deck. It was cold and we wore coats during our daddy's visit. Our colds are better but daddy dear has a cold and sore throat. It was hard to get up this a.m. Barbara dressed up for Mother's Day and told me she loved me.  Dave brought over Barbara's mattress all stuffed and sewed. It's fine, and we only wish we had it fixed up earlier.
Monday, May 12: Our ship is off the Azores. There is smoke on the horizon (we later learned it was a British convoy). We were all excited. It was cold and cloudy—we didn't want to get up and the breakfast call came before we were ready.
Tuesday, May 13: Earnest prayers for our care during the night; the Lord was near. We turned east at noon. It was cold and windy, the sea was tempestuous spray, and combers continually kept coming over the rail. Many of the men were caught while they ate on the back deck aft. We had a sweet visit with our daddy; it was so cold we sent the children inside. Our colds are better, but we're still using nose drops and cough syrup. I started knitting a sweater.
Wednesday, May 14: We sighted other boats between 4 and 6 p.m. Our boat sure did a lot of twisting and turning and made us nervous.  It was a rough night and I was restless, but the children slept well. It was so cold and wet outside that Daddy didn't stay long. I washed out his shirt and pajamas with half a piece of soap.
Thursday, May 15: Mrs. Young taught us a chorus, "Safe Am I." It's still very cold, with showers off and on during the day making us run for shelter. I finished the front of John's sweater and started the back.  Had a nice visit with our daddy. It was so cold out on deck but we were warm under blankets. Daddy went up at 2 p.m. to trade stamps with one of the officers. He gave me two bars of good salt water soap.
Friday, May 16: There was an announcement that we are not going to Tem Islands, but may land in Spain. It is very cold, and we stayed in most of the day. The children could be with us only part of daddy dear's visit. We wrapped up in blankets. Very rough and [the boat was] pitching badly. It rained off and on, perhaps it was God's way of protecting us. Mrs. S. is knitting on John's sweater. The men are eating on aft deck—poor souls, they are nearly freezing.
Saturday, May 17: It was a very rough night and rather rough all day. We feel God's measure of protection. The children slept well. It was very cold but we had sufficient cover. The children played in our room, and we had a good visit with our daddy. We are in very dangerous waters, but it's so sweet to feel we are in God's protecting care. I did some washing. John's sweater is finished, and it's rather nice.  Breakfast was oatmeal and jam, lunch was cabbage, and supper was rice soup, cheese, and bread.
Sunday, May 18:  A good clear message on reconciliation from Mr. Young, on 2 Corinthians 5:18-20. Another night of dangerous waters passed safely, thank the Lord. A fairly calm night, slept some, and the children slept well. It wasn't as cold this morning on deck, but still we needed blankets. We had Sunday school with little tots. Daddy was over for an hour, then we had services but it was shortened due to a shower. We sighted light about 8 p.m.; think it might be Cape (illegible) and caused. We went out to see the sun set after evening prayers.
Monday, May 19: There was land in sight all day. We read from Psalm 103 and offered prayers of thanksgiving for all God's benefits. It was a day of anxiety for our dear ones [wondering where and how we are]. We saw the most beautiful scenery along the coast line of Spain (we think). Oh, the wonderful feeling of seeing land—it can't be expressed. Our daddies were able to come over all day. No one was allowed on upper decks, nor could we do any washing. We went to the hold from 2-4 p.m. to pack up our few belongings and fix things to get off, but when and where? John and I had a nice hot bath after lunch and he had a long sleep.
Tuesday, May 20: We were in port in the early morning at St. Jean de Luz France. Lots of excitement on board. [Trying to] find out where we were or what was to be done. Launches came and went with officers; finally, all Americans were told to go to shore, the rest to be taken to another port (Bordeaux,  probably). Serious news but still we hope for the best. We left the boat about 3 p.m. and were taken by bus to Biarritz; Arrived about 10 p.m., and were put in hotels; they are lovely to us. It was late before we ate, so I was glad for the bread and cookies I had from the boat. The landlady gave the children bread and butter and chocolate. We realize we are in German hands, with guards everywhere, troops, etc. and blackouts at night. We are in a beautiful place, the ride here was beautiful, rain off and on but sunshine at noon.
The same "Special Notice" that described what had happened to the Zamzam also announced that a cablegram had been received from David Hall:
A cablegram from David Hall at this writing, sent from Lisbon, Portugal, indicates that they are safe. They have undoubtedly been sent into Portugal with a view of returning them to America/ However, no definite information is available at this point. (("Special Notice," 12.))
Wednesday, May 21: The Consul came in the afternoon. We slept late and had a late breakfast of good coffee, bread, butter and jam. We had family prayers together; it is wonderful to be united again. It was a day of patient waiting; we don't have much freedom, although we can go outside with the children and it is good to be in the sun. Our room is so cold. We had hot water in the afternoon, so I washed out some clothes and Barbara's hair. We sent some to the laundry, and I mended, cleaned, and stitched my coat. We received passports and money back, but some of our things and papers are missing. News of the others has been very distressing but we are hopeful of better things and God may yet intervene.  Grand lunch of soup, meat, cauliflower, lettuce salad, bread—how we all enjoyed it. It stayed light till 9:30 p.m., with beautiful views all about us.
Thursday, May 22: We received word that we could go all about the city but we must be in by 11:30 p.m. We are glad for a bit more freedom, but can't enjoy things because of the strain of the uncertainty.  The children love it and enjoy playing in the sand. Many people are interested in us and want to question us but we are very careful. We met an American lady staying at Hotel Victoria. We visited some trinket shops and went window shopping. Our food is good, but our sausage for supper isn't exactly palatable.
Friday, May 23: We did some scouting. Daddy got some necessities, so we are now all supplied with tooth brushes, paste, soap, etc. Our laundry is back; it was very reasonably priced and beautifully done.
Saturday, May 24: Mr. Clark (the Spanish Consul) and Mr. Polling interviewed us as to our clothing needs. They were very nice. It rained in the morning. Our daddy went shopping and to market and brought us goodies, cherries, strawberries, and cookies. I went shopping in the afternoon and also had a nice walk; bought two berets, gloves, shoes and socks for John, and writing paper. Came home really tired. It was cold all day, we had fire in the grate so I got my clothes dry. Gave children baths beside the fire and to bed earlier than usual. It's hard to go to bed when it is still light.
Sunday, May 25: It was a beautiful Lord's day. We had services in the dining room at 3:30. Mr. Fix brought a good message from Psalm 50:15 and 51:17—very appropriate. John had a long nap. I took the children for a long walk before dinner. We had a good dinner of soup, meat, peas, and noodles
Monday, May 26: A quiet day in our room. Dave attended some committee meetings. Miss Agrimson and Mrs. Derr called on me and I enjoyed their visits. I started to knit a dress for Barbara's dolly. It was cold and rainy part of the day and we had a fire in the grate. Dave got cookies, radishes, and carrots; they are so good.
Tuesday, May 27: A committee was appointed to go to Bayonne for shopping. I finished knitting for the dollies, mended clothes, and wrote letters telling of the outcome of our group. The men and women will go to Berlin, and the women with children will stay somewhere in France. Our hearts go out to them. Our daddy brought us some warm bread and how we enjoyed it. Lovely walk after supper.
Wednesday, May 28: We were weighed today: John is 43 1/3 pounds, Barbara is 88, Mable is 154, and David is 182. We heard a report of President Roosevelt's speech; his conditions seem serious.  Everything is fixed up for our leaving as soon as the lost passports are fixed up. There was a German propaganda movie but we didn't go. It rained most of the night but cleared up after breakfast and was a lovely day. We were down at the beach for three hours with the Brills and the children had a lovely time.  John missed his nap so he went to bed early. Daddy brought us some bread and breadsticks; we got a little grate and we made toast.
Thursday, May 29: We received word today that we are soon to leave here. Everyone is so happy over the prospects. We declared all our money and must know the exact amount when we leave Spain. Mrs. Russell and Janet came on the train last night. They say everyone is so brave. They were cared for by the Red Cross and were comfy. Mrs. Russell only saw her husband for half an hour before leaving him. Our hearts ache for them all. We visited the aquarium and museum with Miss Agrimson and Halsey. Some children also went down to see the fishing boats come in. It was a lovely sunny day so washed John's and my heads. We are enjoying the good vegetables and bread our daddy brings.
Friday, May 30: Mr. Clark and Mr. Polling announced at a meeting that the ambulance drivers are to remain. This cast a shadow over us but we could only expect it. We had a lovely walk out to the lighthouse and got caught in a real rain but found shelter. Daddy had a fire for us upon our return.  Washed up the dirty clothes and got them dry. Had chocolate ice cream together at the tea room.
Saturday, May 31: Left Biarritz, France at about 9:30 a.m. We were ready much earlier and eager to be off. Our stay here was pleasant under the "circumstances." The Red Cross and Society of Friends were wonderful to us. Our trip in the bus to the Spanish border was through the most beautiful country—hills and valleys, farms and small towns, lots of flowers (poppies). We saw fortification troops at work and on the march. We crossed the border about 11:30 and changed back an hour. It was quite a wait at the border and we finally proceeded to San Sebastian, arriving about 2:30 p.m. The Red Cross cared for us beautifully at the Hotel Maria Christina. Delicious lunch, hot baths, and John had a good sleep. We left at 6:30 p.m. rather crowded on the train; there was a delay and we changed cars at 9:30. More crowded than ever.
Sunday, June 1: The Lord's Day, on the train all day. We crossed the border from Spain into Portugal about 12 p.m. Had dinner and changed cars—more crowded than ever. At 8 p.m., we had a wonderful dinner and royal reception at Mangualde. Conditions in Portugal are much better than in Spain. In the early morning, [we passed through] beautiful hills and by midday were on very level plains. We saw lumber camps, cork pine trees blown over as if they had a storm. Some towns passed through were Salamanca, Ciudad Rodrigo, Fuentes De Onero (Spain), Traviero (Travesia?) Port, Rochoso, Guarda, Pinhel, Fornos, Gouveia, Mangualde.
Monday, June 2: My two five-year diaries are gone and I am now starting a new one. I have kept an account of the happenings of the last two months and will transfer it into this book as I have time. Very uncomfortable night on the train, although the children slept fairly well. We were awake early but let them sleep. Arrived at Lisbon, took a bus to Sintra, 30 kilometers from Lisbon, and arrived about 9:30 a.m. We were taken to hotels. We are comfortably located at Hotel Central, with beautiful views. Had breakfast then a bath and rest, then took the children for a long walk in the park and around the area. Dave found some nice shops, and bought cookies and gum.
Tuesday, June 3: We slept late and what a fine rest—praise the Lord for all his blessings to us. Finished up our writing and had a meeting of missionaries and later with the council who said orders from Washington are to come home. The Lord's will be done. We sent four airmail letters and cables, including to Irvin W. Musser in Mount Joy [member of mission board] saying, "All well, notify list. Repatriation probable, airmail follows, address care consul in Lisbon if message. Halls." Rain in the afternoon sent us back from our walk.
Wednesday, June 4: Dave went to Lisbon in the morning. We received letters received from Brother and Sister H. H. Brubaker [missionaries in Africa]. Oh, but we were thrilled to receive these and what an encouragement to us. Miss Agrimson and the children went for a long walk. Barbara went to Marie Norberg's birthday party and John went for a walk with daddy. I couldn't go as I was having my shoes fixed. We're enjoying the fruit and fish so much.
Thursday, June 5: We went to Lisbon with the Norbergs and the Morrills. The latter are booked to leave for home on a Portuguese freight boat. We waited around the consul's office nearly all the time—only did a little shopping. We came home for a late lunch. In the afternoon, we visited two royal palaces and found them very interesting. They were built by Moors in 1200—interesting kitchen, beautiful furnishings, chandeliers, etc. and some lovely views. The prospects for our booking are not very bright but we are trusting God to intervene.
Friday, June 6: A good night's rest. Filled in immigration papers. All of us were vaccinated for small pox.  Arrangements made for the single ladies to return home. Received a cable from Brother Musser. Dr. and Mrs. Norberg were over for coffee, Barbara was over playing with the children. Reviewed Barbara's Bible memory work. Pressed Dave's suit and several other things. Cloudy and rainy. [Transcriber's note: The 1943 entry on this date noted that Dave told about the Zam Zam experience at a United Brethren in Christ congregation.]
Saturday, June 7: Fog and cloudy. Dave went to Lisbon in the early morning. I went shopping with Miss Agrimson and got a skirt for Barbara and took it to the tailor's. I started knitting on her sweater; I don't have a pattern, so it is hard to know how to start, the number of stitches. etc.
Sunday, June 8: Had a quiet Lord's day. Some went to Lisbon to an English service; the rest of us had a prayer service together. It rained off and on all day. Spent the afternoon reading and entertaining the children. Had tea, toast and cakes. John slept with me; he had a bad night on account of his bites. Dr Norberg gave a prescription which helped to alleviate the dreadful itching.
Monday, June 9: John's bites on his heels are so sore; he was very restless and I brought him to bed with me. We were awake quite a lot of times, rubbing on the solution and the salve. I had a lazy morning—Barbara served me coffee and buns in bed, then I got up and dressed and mended. Rainy in the morning and we went with Norbergs for a trip to Lisbon at 1 p.m. Got home 6:30. We had a lovely trip: stopped at the consul's, post office, leather shop, cathedral, several "outlooks" over the city, graveyard (very elaborate), docks, saw a U.S. boat and some Portuguese boats. Drove down to where the clipper lands and takes off, saw the clipper, stopped at the zoo, enjoyed the whole trip very much.
Tuesday, June 10: A lovely day, did some laundry, fit Barbara's two skirts and had measurements for John's trousers (wool materials are reasonable). The single and unattached ladies left by bus at 2:15 p.m. It was hard to realize that again our group is being broken up. Some went to see the boat leave.  Had coffee with the Norbergs and spent the afternoon knitting. Had Dr. O'Neal look at our vaccinations; we all had positive reactions.
Wednesday, June 11: Daddy went to Lisbon in the morning. The Serpa Pinto has 611 passengers, with 160 crew and 15 officers. There are 117 children (refugees) on the boat.
In the June 16, 1941 edition of The Evangelical Visitor, another cablegram was announced:
A cablegram received from David Hall's [sic] June 10, indicated their expectation to sail for the United States about June 13. It further disclosed that all their baggage and effects, which they had taken with them enroute to Africa, were lost. They, however, were safe and well.5
Before sailing, the Halls wrote a letter to members of the Foreign Mission Board in which they described what had happened when the Zamzam was attacked:
The shelling of the Zam Zam took place about 5:45 A.M. April 17th. Took to lifeboats and rafts immediately as ship was listing badly. . . . No missionaries were seriously injured in the shelling. Boat remained afloat long enough for the German officers to go aboard and collect some items of food and personal possessions. Some had only the clothes in which they escaped which in many cases were light sleeping garments, others received more. Personally we had the clothes in which we left the ship, and one case which fell in the ocean during the transfer but was recovered. Others shared necessary items to make us comfortable.6
 Thursday, June 12: We sailed from Lisbon at 6:30 p.m. on the Serpa Pinto. We were feverish waiting all morning to know if we could sail. At 12 noon at the lunch table, we knew we were going—oh, but we are a happy group. We left Sintra at 2:30 p.m. by bus—29 of us. What a crowd!!! On the docks, there was a mad rush, pushing and milling in the crowd till we were all worn out, then to find when we got on that there were no reservations for us. We hunted at first for cabin numbers. The men went to the purser and captain and wanted off. They were refused, [but we were] granted smoking room. We put mattresses on floor. Finally got supper at 10:30 p.m. Such a day. Had a restless and uncomfortable night. The children and I shared two small mattresses. Lots of people ill when we went down to the dining room for breakfast of coffee, milk, bread and butter. The other meals are served in our room—much better than going to that awful crowded and dirty dining room. More mattresses and bedding given. All of us are knitting, even the girls. We have nice deck space. John is ill with 103 degrees temperature. Must be his vaccination reaction. Dr. O'Neal gave him an exam and his throat isn't bad. Got to bed late and John was restless until 2 a.m. [He became] delirious and I called Dave and he called Dr. O'Neal. He gave him a pill and in one and half hours he fell asleep. I slept a little after that.
Following their return to the US, in a letter the Halls wrote to the whole church, they further described their accommodations on this ship:
We had very poor accommodations during our ten day journey, in fact we had no cabin reservations for any of our party and we were greatly concerned for the children's sake. The men appealed to the captain and he finally agreed to give us the Third Class Smoking Room. They moved the tables and placed mattresses on the floor for the entire group. We expected this while on the prison boat, but were hardly prepared for such treatment after paying our fare. However, we were so happy to be able to get out of Europe that we were willing to put up with a few inconveniences. All means of transportation are overcrowded at this time. We were told that this was the last boat to bring over refugees and they were willing to pay any price to get to this country.7
Saturday, June 14: John is still hot. Dr. O'Neal gave him an exam and decided it's his vaccination. Ill all day with high fever. Slept off and on, but took very little nourishment. We had the ship's doctor come in the evening when he vomited. The doctor ordered him to [the ship's] hospital and we finally got him settled about 11 p.m. Got family cards for use of first class toilets. Our food and eating causes lots of room for laughter. John had a good night; I was up a few times with him, but it was good to get some sleep. So glad daddy can be with us. [Found out that a] cable of our safety arrived in Africa from America.
Sunday, June 15: The Lord's Day. We passed through Azores. We had services together with Brother Belknap reading Hebrews 11.  Dave stayed with John. The doctor came to see John and swabbed his throat. He takes very little food; he wanted toast and we tried all day and finally got some hard unbuttered toast late in the evening—it was almost amusing. A number felt sick and we think it is the food. It was rainy and the children had to stay inside which made it hard. We saw a U.S. boat, porpoises, beautiful sights of the islands, little white houses situated in the green hills, waterfalls, etc.
Monday, June 16: A lovely morning. John was restless because of his bites caused it—they are all around his neck, poor dear. He has only a little temperature. Had a bath and washed a few things. John is hungry and eats real well. Lovely rice and broth brought to him twice. Very rough sea and we get the full benefit of it back here in the stern.
Tuesday, June 17: Had a good night but have a backache from the hard bed. John's temperature is normal. Calm sea. Whole pig and water cress for dinner. Just about floored us all. Knitting was hard after having to rip part of the back.
Wednesday, June 18: The doctor is keeping John in bed even with no temp. We had a good night and John had a good nap and is eating better. Had a bath and washed Barbara's hair, and did a little washing.  Very windy and slightly rocky, but the sun was shining most of the day. Everyone is getting tired and restless from such crowded quarters. We are hoping our trip won't be lengthened to include the Bermudas.
Thursday, June 19: John is still in bed with no temp. Very windy and rough, waves and spray up over the deck. Some of us are not feeling so well; the food is not so good which doesn't help much. Rained in afternoon and evening. I wrote a letter. Gave John a bath and changed his pajamas. Washed a few pieces [of clothing]. Fire drill for the crew which gave us a fright as we weren't expecting it.
Friday, June 20: A good night, sea calmer, a beautiful morning. The doctor doesn't want John up. We hope we won't have to move back to the dorm. Mrs. Norberg and Johnston look after Barbara.
Saturday, June 21: John in bed but we can hardly keep him there. He is climbing about and fell out of bed. He was a little more careful. Wonderful to be drawing nearer home. Knitted hard all day.
Sunday, June 22: We spent the Lord's day in New York harbor. It's good we didn't know we couldn't land as we would have had longer to stew about it. Very warm day. John was up and about most of the day, got pretty tired. We passed the Ambrose light ship at 6:45 a.m. It's a little foggy, and lots of boats were in the harbor. We had a fine dinner and supper to try and atone for the rest of the bad food. The crowd got on top deck and sang patriotic songs as we pulled toward dock. We were only a short distance from the docks at Stanton Island.
Monday, June 23: We docked at Stanton Island between 6 and 7 a.m. We packed up early, and were off the boat soon after 9 and had our baggage off and through customs in a short time. Very nice customs official. Dave phoned Brother Musser—he had been trying to get us. Said they would be over for us.  Took a taxi, crossed the ferry. Dave went to look after things and we went for lunch at the automat. The children enjoyed it. Brother Musser and Warrant K. Heisey came about 4 p.m. My, but it was good to see them. A lovely trip home, arriving about 12:15 a.m. at the Mussers' home.
Tuesday, June 24: I washed all my filthy, dirty clothes at Brother Musser's in the morning. We went to Lancaster to shop, got a bonnet and coverings from Rena and had supper with her. Then Brother Musser came for us and we drove around by Brother Hostetter's home and to bed. How tired we were. More good letters and a wire from sis. Everyone is just wonderful to us. Oh, we do praise the Lord for all His goodness.
Wednesday, June 25: Sewing circle met at Elias Musser's and they sewed one dress and slip for me, pajamas for Barbara and John. There were some suits and dress made but they were too small for us.  Anna W[olgemuth?] was at Brother Musser's; Sister Hostetter helped also. The board met with Dave making arrangements for our plans. Barbara and John are having such a happy time. Our first meeting was at Cross Roads [Brethren in Christ, Mount Joy, Pennsylvania]; there was a large crowd. We did more weeping than talking.
Postscript
In July, a notice appeared in the Evangelical Visitor requesting assistance for the Halls:
Since Brother Halls lost nearly all their belongings enroute for Africa, as effort is being made to reimburse them as well as the Board for steamship passage and expenses in France, Spain, and Portugal. Any wishing to assist forward your offering to the Foreign Mission Treasurer.8
The Foreign Mission Board's report in the 1942 Handbook of Missions included this reference to the Halls' experience:
It will be remembered that at the time of last year's Conference Bro. and Sr. Hall and family were in Portugal awaiting passage to the U.S. after their thrilling experience when they were enroute to Africa on the S.S. Zam Zam. Because of the great need on the field we were sorry that they did not get to the field, but were very thankful that they again were permitted to arrive home safe.
Owing to the hazards of ocean travel no workers were sent to the fields this year.9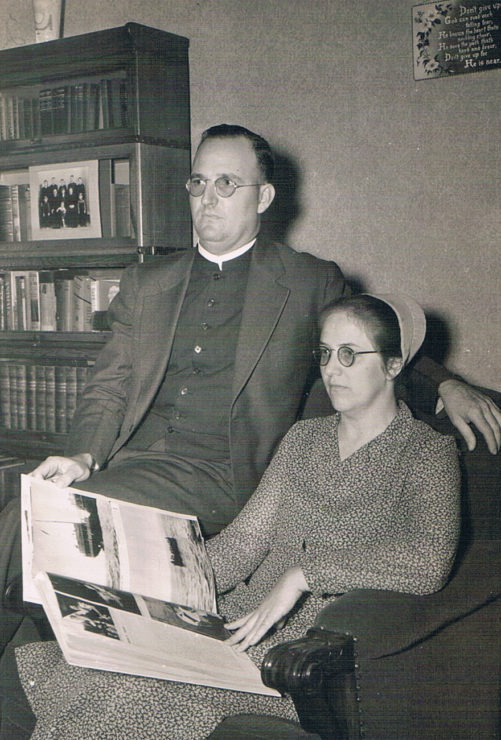 In the years since 1941, four reunions of survivors of the sinking of the Zamzam have been held, the most recent (and final) one in 2016. Added to the historical record that Mable Hall left in her diary, several other memoirs of the voyage were published, some of which are still available online.10
David and Mable Hall 's letter in the Evangelical Visitor after the family returned to the United States expressed the Hall family's thanks for the prayers of the church during their ordeal and requested continued prayers for those were still being held as prisoners. His conclusion echoes the tone of other memoirs of the voyage on the Zamzam:
Sometimes God's greatest opportunities of showing us His keeping power and sustaining grace are when we pass through deep trials or afflictions. Remember, Christian friends, God's grace is sufficient. . . . Throughout this entire experience we have proven His grace sufficient. Praise His holy name.11
Endnotes
[1] The name of the ship is variously spelled: Zamzam, ZamZam, or Zam Zam. Unless quoting directly from another source, this article uses Zamzam. For an account of the voyage, see "The Rainbow in the Storm: The Final Voyage of the Zamzam," From the Vault: Voices from the Billy Graham Center Archives, Wheaton College, April 1, 2021,  https://fromthevault.wheaton.edu/2021/04/01/the-rainbow-in-the-storm/.
[2] The Evangelical Visitor also published an account of the voyage by another missionary couple who were passengers on the Zamzam: Catherine and Tinsley Smith, "On Board the Zam Zam,"  Evangelical Visitor, August 11, 1941, 12-13.
[3] Scanned from S. Hjalmar Swanson, ed., Zamzam: The Story of a Strange Missionary Odyssey (Minneapolis, MN: Board of Foreign Missions of the Augustana Synod, 1941), inside front cover. The map was prepared by V. Eugene Johnson.
[4] "Special Notice," Evangelical Visitor, June 2, 1941, 12.
[5] "Special Notice," 12.
[6] "Halls to Return to America," Evangelical Visitor, June 16, 1941, 12.
[7] The Halls, "A Letter Written Before Sailing," Evangelical Visitor, June 30, 1941, 12.
[8] D. B. and Mable Hall, "To the Visitor Family, Greetings," Evangelical Visitor, September 23, 1941, 12.
[9] Graybill Wolgemuth, "Western Union Telegram, Evangelical Visitor, July 14, 1941, 12 (220).
[10] I. W. Musser, Foreign Mission Board Report, Handbook of Missions 1942, 55.
[11] See Swanson, for example.
[12] D. B. and Mable Hall, 12 (300).