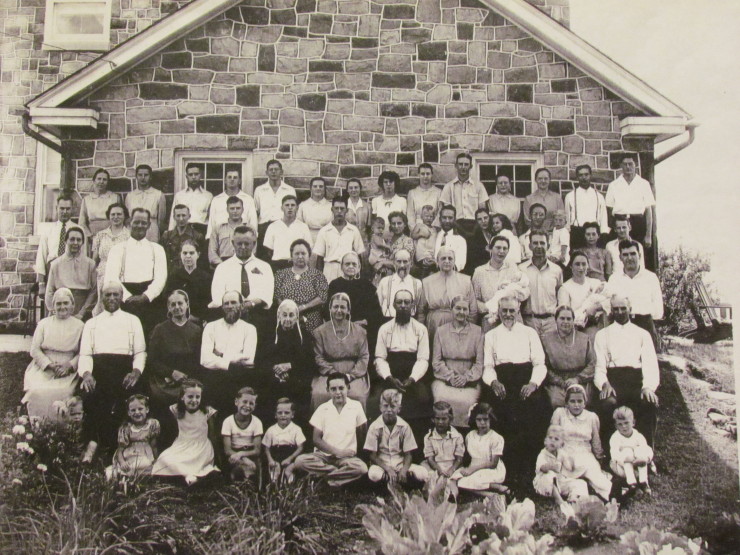 by Aaron Martin and Althea Engle Philips
In 1987, E. Morris Sider wrote More Than Names: The Story of John and Barbara Martin. When the book was published, this important family photo was not available and thus not included in the book.
I (Althea) found the photo in a cousin's file and researched the family connections. I recognized several relatives, but the only one that I thought was still living was Esther Heisey, a member of the Lancaster Brethren in Christ Church where I grew up. With her help I contacted other relatives, who helped identify everyone else in the photo.
The context for the photo: In 1858, Mary Wolgemuth was born into a Brethren in Christ farm family. In 1880 she married Eli Musser and they lived on his family farm near Florin, PA. They had five children from 1881 to 1896. Eli died in 1896 at age 37, leaving Mary to run the farm and raise the children. Son Irvin, at age 15, took much responsibility for the farm, and together they made the farm prosper. Irvin later inherited the farm and raised his family there. Mary then married Ben Nissley after his wife passed away, and they lived in Florin. When Ben died in 1929, Mary went to live with her daughter, Mary Forry, near Mount Joy. About 1940, she moved to Lancaster to live with her daughter Barbara Martin's family.
In 1945, when Mary was 87, the family decided to invite all of her descendants to gather for a reunion at Roy and Mary Martin's home. On September 8, 1945, about sixty-five people came together to share a meal and fellowship together. Mary had agreed for a professional photographer to be hired to memorialize the event, although her picture had never been taken before because it was considered a "graven image." That evening, Mary retired to her room at Barbara's home. She was found in her bed the next morning, having died peacefully in her sleep.
While there are no more copies of the book More Than Names, those who already have it can get a copy of the photo and the names of everyone in it to insert in the book. Contact Aaron Martin, 102 Redwood Lane, Kennett Square, PA 19348; phone: 610-444-5645.: