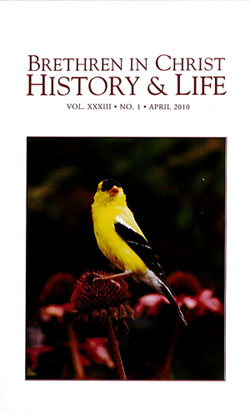 If it isn't already there, the April 2010 edition of Brethren in Christ History and Life will soon arrive in mailboxes throughout North America. The issue is chock full of thought-provoking pieces, including:
· "Back to the Future: Exploring the Authority of Scripture in an Age of Relativism," professor Rob Douglass' keynote address of the 2009 Sider Institute Conference on "The Authority of Scripture in the Christian Life." Douglass challenges contemporary theologies of postmodern ministry by suggesting that "the perennial duty of the Church . . . [is to] strive for a balance that maintains rather than alleviates the tension between fidelity to the faith and relevance to the world," and by challenging evangelicals to emphasize ethics over doctrine.
· "Writing a Woman's Life: Lucy Brechbill Lady (1910-1968)," a fascinating and insightful autobiographical sketch by Lucille Marr. In it, Marr studies diary entries and letters to compose a portrait of her aunt Lucy, a woman committed to her church and to the ministry of her husband, holiness evangelist Jesse Lady, but also a woman who suffered from bouts of profound depression that led her to take her own life. Marr's article reminds us of the power of biography to illuminate history.
· Messiah College professor John Yeatts offers "A Response to Biblical Illiteracy: The Importance of Preaching and Teaching the Bible." Using statistics from the larger Christian community as well as from the Brethren in Christ Church, Yeatts suggests a decline in personal Bible reading and Bible knowledge, while also positing some solutions for curbing the momentum.
Readers: What are your thoughts on this issue of the journal? Which article was your favorite, and why? What questions or concerns were brought up as you read the various articles? Share your thoughts in the Comments section, and let's get a conversation started!