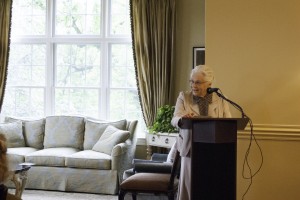 We're reported before (here and here) on Many Mansions: Lessons of Faith, Family, and Public Service, the new memoir by Kay Boyer, wife of the late Ernest L. Boyer Sr., the educational pioneer, long-serving Messiah College trustee, and son of the Brethren in Christ Church. The memoir was published in 2014 by Abilene Christian University Press.
Messiah College is now reporting on the release of the book, which was marked by a private reception on the College's campus on May 29, hosted by the President and the Ernest L. Boyer Center.
Here's a taste of the report:
The life of Ernest L. Boyer '48, a man whose career in public service has had a profound effect on quality education in America at every level, is now honored in his wife's memoir, "Many Mansions: Lessons of Faith, Family, and Public Service." Kathyrn Boyer's memoir was released May 29 at a private reception attended by the Boyer family and hosted at Messiah College by President Kim Phipps and the Ernest L. Boyer Center.

"Ernie's dedication and accomplishments on behalf of the education of our world's children was enriched by Kay's significant influence and imprint," said President Phipps.

The Boyers, who met as students at Messiah Bible School, traveled extensively and moved 20 times to fulfill Ernie's roles as Chancellor of the State University of New York, United States Commissioner of Education and President of the Carnegie Foundation for the Advancement of Teaching. In her memoir, Kay details the challenges and joys that came with the balancing act of faith, family and public service.

"This personal story of the family life of Ernest Boyer will be very valuable to all Americans who are interested in quality education in our country," said Jimmy Carter, 39th president of the United States and 2002 Nobel Peace Prize winner. "His extraordinary contributions in the highest levels of government and academic service have been a blessing to millions of students and other educators."

Kay, a certified midwife and past president of the American College of Nurse-Midwives Foundation (1984-89) writes in the memoir, "I was called to be an advocate on behalf of children preparing to enter the world. Ernie was called to provide those children with ways by which they could take their place as rightful leaders in society."
Read the whole report here.
You can purchase a copy of Boyer's memoir here. I hope to write more about the book throughout the summer, so stay tuned!