Photo Friday: 100 Years at Springfield, Ohio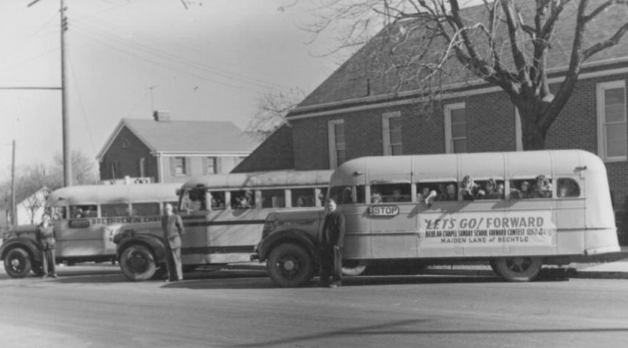 2011 marks the centennial of Westside Christian Community, formerly Beulah Chapel Brethren in Christ Church, in Springfield, Ohio. Today's Photo Friday celebrates that 100 year journey with an image from and a few words about the congregation's history.
After the jump: More on the history of the Brethren in Christ community in Springfield, Ohio.
The Brethren in Christ community in Springfield, Ohio, was for many years shepherded by members of the Ulery family. In the early 1950s, a new pastor came to the congregation — Owen Alderfer. Alderfer's biographer, David Zercher, shares some insights into the congregation at that time:
In 1951, the year in which Alderfer completed his Bachelor of Divinity degree, the ministry team at Beulah Chapel consisted of three unpaid ministers, Bishop Carl Ulery and Dale Ulery and Orville Herr. But the Ulery brothers had become increasingly occupied with denominational responsibilities, and Herr was advancing in years. Sensing the need for additional help, the congregation voted to add a paid pastor to their ministry team and invited Alderfer to be that pastor.

In one respect, Beulah Chapel represented the kind of situation that an ambitious pastor should respectfully avoid. When Alderfer assumed the Beulah Chapel pastorate, he assumed a role steeped in family tradition. Carl Ulery represented the third generation of this tradition, having succeeded his grandfather, Jacob Ulery, and his father, O.B. Ulery, as lead minister of the congregation. O.B. Ulery had been particularly revered by the Beulah Chapel congregation, and, upon his death in 1945, was virtually canonized at Springfield. As testimony to his influence, the question "What would Brother Ulery think of this…?" lasted well into the next decade.

Alderfer's leadership provided fertile soil for that question to arise. The people of Beulah Chapel had long displayed a zeal for outreach, and Alderfer augmented their evangelistic zeal with progressive ideas and innovative techniques. In 1952, he helped the congregation launch a radio ministry broadcast locally — and live — from the Beulah Chapel sanctuary. Two years later, he nurtured another high-tech proposal to fruition, this time an immense, neon sign which reminded the sinful world that "Sin Kills" and "Jesus Saves." The sign was difficult to miss, as was the irony — a church with neon lights on the outside and plain-clothed people on the inside. But the people of Beulah Chapel were not deterred. In the case of the flashing sign, they considered the message so consequential that it sanctified the medium.

This was not always the case with Alderfer's ideas, some of which encountered unforeseen obstacles. One Sunday morning, Alderfer announced that a film would be shown that evening as a special youth activity. By the end of the morning, however, his announcement had been repealed, because "Brother Ulery would not allow movies to be shown in church." While these congregational constraints distressed Alderfer, he handled them with deference and grace. Before long, he had gained a good sense of what would fly and what would fizzle in Southern Ohio . . .
As these stories indicate, Beulah Chapel was indeed a conservative congregation — but a conservative congregation sometimes willing to experiment with new methods and means of calling sinners to salvation. Today's Photo Friday image — as well as this post about a particularly imaginative evangelistic program carried out at the church — visually document the veracity of this paradox.
Unfortunately, no full-length congregational history of Beulah Chapel exists to share the whole story of the congregation's journey. Perhaps the upcoming centennial celebration at Westside Christian Community will inspire an historically minded congregant to delve into the depths of the congregation's past!
For more on the upcoming centennial at Westheights, check out this invitation. All in the area are encouraged to attend.