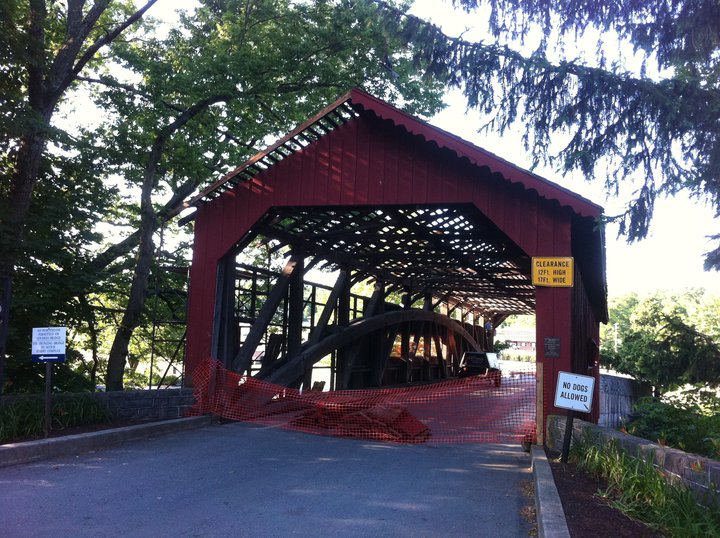 Today's Photo Friday installment comes courtesy of Beth Transue, a blog reader and the collection development coordinator at Messiah College's Murray Library. Beth posted this photo on her Facebook account a few days ago, noting, "The covered bridge on campus getting a facelift! Can't wait to see the new and improved look!" According to the College's website, the bridge is "structurally in excellent condition," and will be receiving a new roof and a coat or two of new paint over the next three or four months.
Messiah's present-day covered bridge — a campus landmark — is not actually original to the site. The bridge was moved to campus in in 1973, as historian E. Morris Sider writes in his book, Messiah College: A History:
On the same day that the Eisenhower Center was dedicated so, too, was a covered bridge over the Yellow Breeches. The first bridge over the stream, built for the orphanage children to attend the model school, was destroyed by high water in 1932; its replacement, a suspension ("swinging") bridge, was also destroyed (in 1973), not by high water but by a group of high-spirited youth jumping so vigorously that they snapped a cable. A replacement for this second bridge was necessary, since the area across the Yellow Breeches, which had been purchased by the college in 1962, was being developed into athletic fields and access to the grounds was imperative.

Cumberland County offered the college the covered bridge at Bowmansdale (the last covered bridge in the county). Under the direction of Earl Swartz, according to consulting engineer G. Clinton Burkhart "one of the few artisans available today with . . . specialized knowledge and experience" in covered bridges, the structure was dismantled and put up again next to the place where the swinging bridge had crossed the stream.
You can read more about the bridge and see other pictures here.