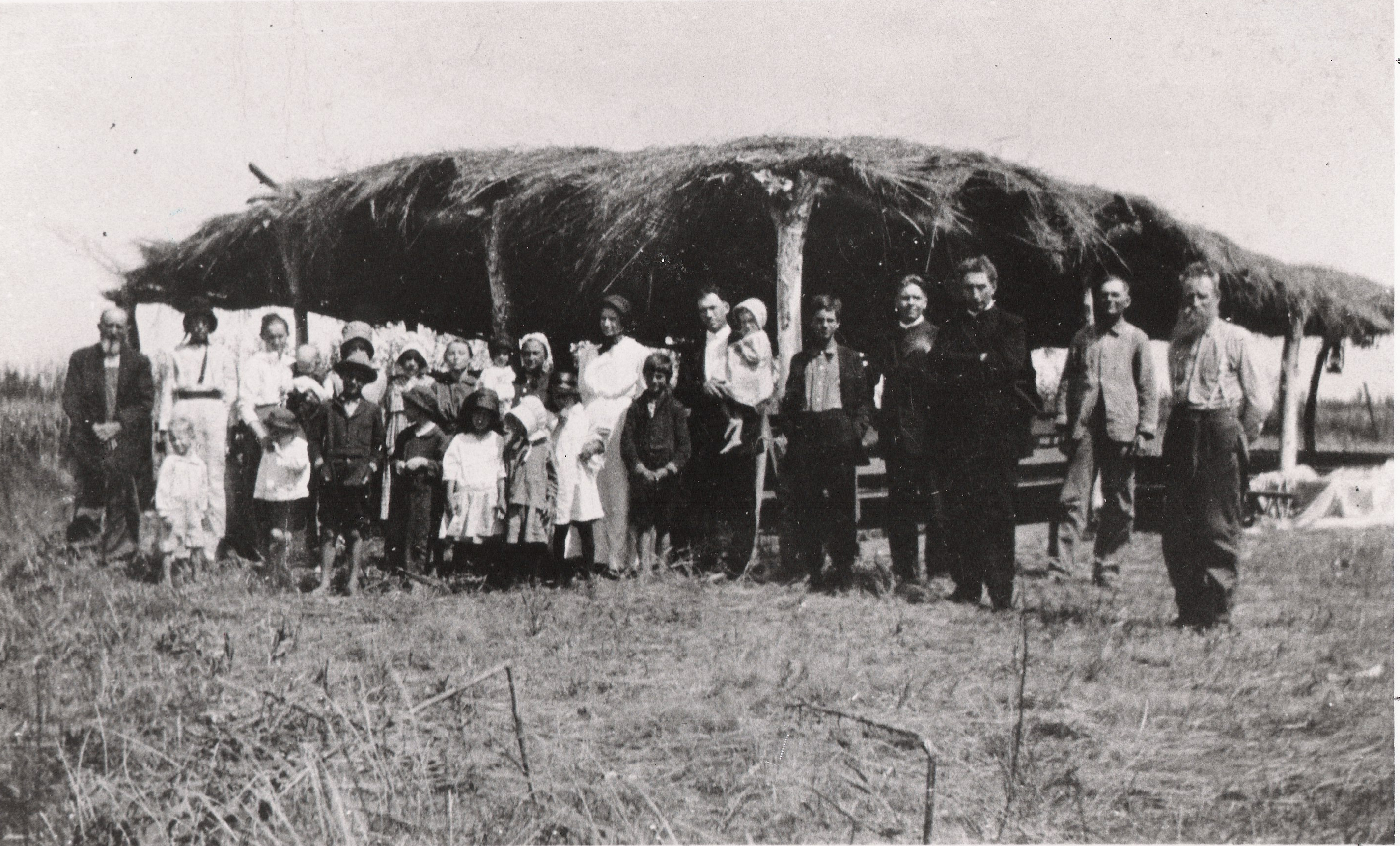 A new weekly column on "the search for piety and obedience," Photo Friday will feature significant, illuminating, or just plain humorous images from Brethren in Christ history.
I know, I know — technically, the title of this post is incorrect. That's thatched brush-arbor (not cereal wheat sheaves) forming the roof of the "tabernacle" used by Brethren in Christ evangelist Bert Sherk to minister to Oklahoma pioneers in the early 1900s. Hopefully you'll overlook my glaring agricultural inaccuracy: the title-referenced hymn has become such a staple of Brethren in Christ evangelistic services (even to this day!) that, correct or incorrect, its inclusion gives a definite context to this image.
Sherk (third from right), bishop of the Black Creek District in Ontario, Canada, was a familiar face in early Brethren in Christ tent evangelism. While little is known of the specific event — which occurred in Leedy, Oklahoma, in 1909 — pictured above, we can say a bit about the earliest Brethren in Christ to establish colonies in this area, and about their need for inexpensive, "found" structures for public meeting. Here's Carlton Wittlinger's take:
The Oklahoma work began in Custer County near the present town of Thomas. Here the Brethren settlers, some of whom had arrived by 1893, experienced frontier hardships. . . . As late as 1899 their homes were mostly dugouts, that is, excavations into hillsides. Because of the smallness of these primitive homes, they were inadequate for public worship services, and the pioneers were struggling to raise money for a small house of worship then under construction.
For more on the Oklahoma expansion, see Wittlinger, Quest for Piety and Obedience (Nappanee, Ind.: Evangel Press, 1978), 147-149. For more on Brethren in Christ tent evangelism, see Morris N. Sherk, "Tent Evangelism Among the Brethren in Christ," Brethren in Christ History and Life 11, no. 2 (1988): 157-204. Reprinted in Windows to the Church: Selections from Twenty-Five Years of Brethren in Christ History and Life, 140-169.