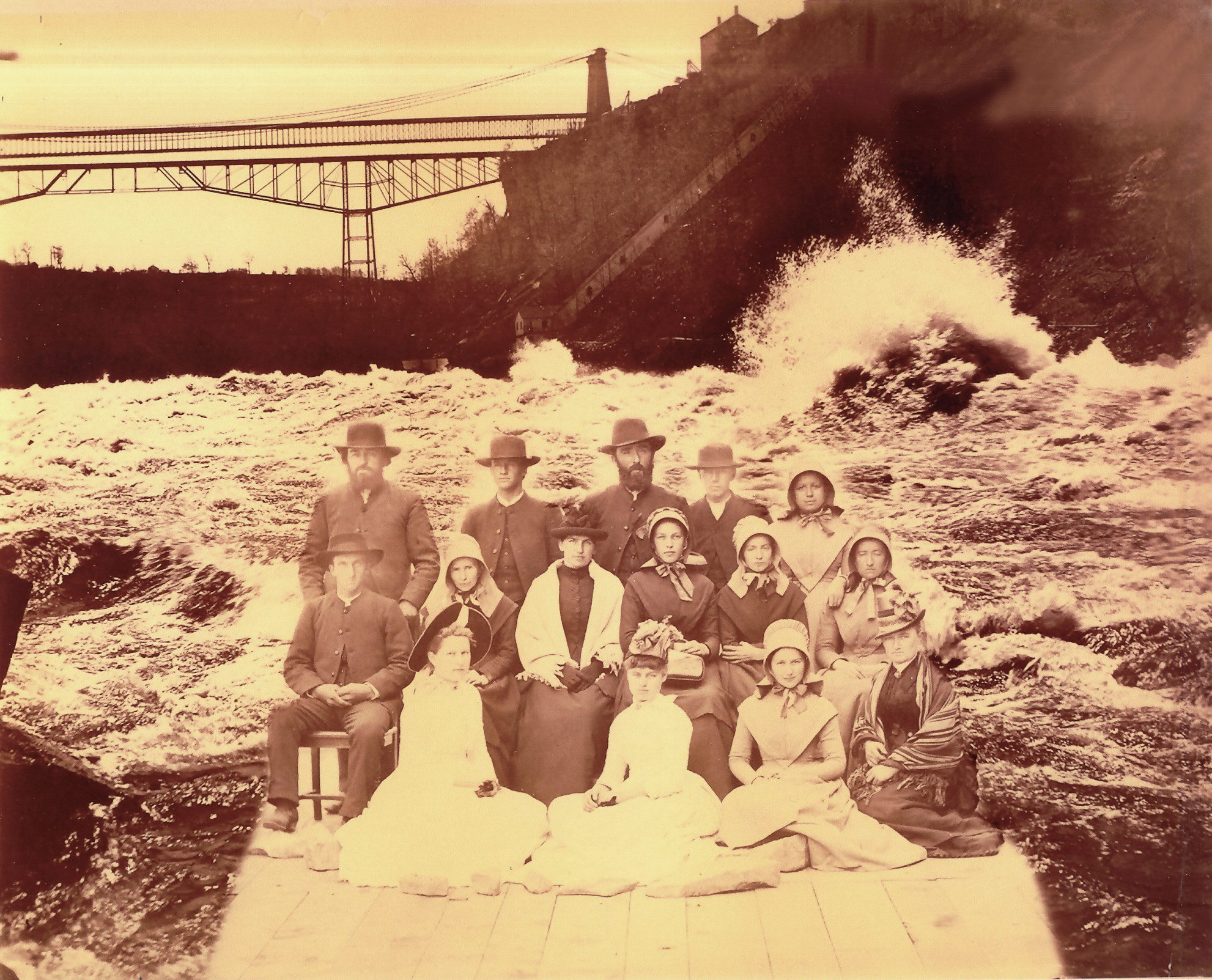 Really, this is a call for anyone knowledgeable about early 20th century Brethren in Christ families from Canada — but "calling all Canadians" has a nice alliterative ring to it (plus, it's grabbier).
I'm putting out this call on behalf of James Climenhage, a genealogical researcher based in Canada. While working on his family history, James came across today's Photo Friday image, a fascinating early 20th century artifact. Unfortunately, James doesn't have much info about the image or those depicted in it.
According to a few scrawlings on the back of the print, this shot was snapped during the 1900 Climenhaga family reunion. The picture was clearly taken indoors, with the scene of the Niagara River superimposed onto the original image. While such blatant photo tampering might seem quaint, even laughable, by today's standards, at the time — when photographs were first emerging as an art form and popular pasttime — there existed fewer "rules" governing the "proper" way to develop pictures. This kind of recreational image manipulation would have looked far more believable in 1900 — perhaps even dramatic or awe-inspiring. (That seems to be what the photo producer was going for.) Think of it as a kind of primitive Photoshop-ing, if you will.
Of course, James didn't contact me for a lesson on the history of modern photography. He's wondering if any of my readers might have information about the Climenhaga family members depicted in this scene! He's already contacted family members in Stevensville, ON; Saskatchewan; and Pennsylvania, but to no avail. Might one of our readers have some information — or good leads on where James might turn next?