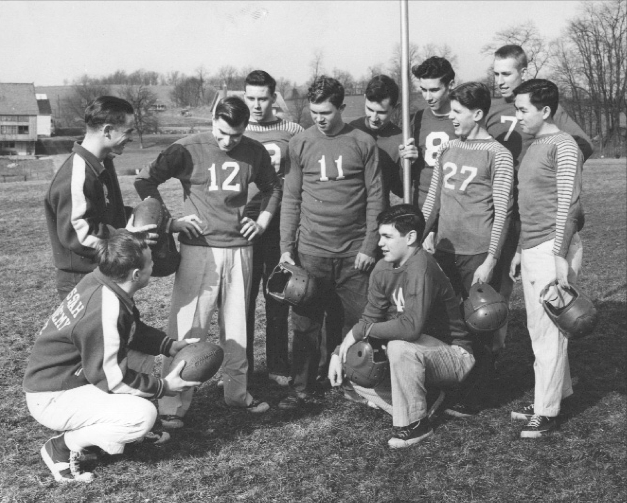 A friend of the search for piety and obedience, Tom Grosh, recently posted a fascinating essay at The Emerging Scholars Blog. Titled "No football: Campus tradition rooted in peace-making," the essay explores why Elizabethtown College— a school "founded to keep youth within the Church of the Brethren," as Tom puts it — has never had a collegiate football team.
Here's a taste of Tom's piece:
I think that Elizabethtown College's position against "intercollegiate athletics, hazing, student fraternities and class rushes" demonstrates an early weaving of the peace position into the daily life of the campus. With regard to athletics, President Beahm reported to the Board on June 15, 1904, "modern match games of baseball and football are not in accord with Christian virtue and true education." In 1927, the Board of Trustees created a policy against football for the protection of bodies, in opposition to the "brutal" nature of the game, and how it tends "to divert the interest of the entire student body from the main purpose of the school." Truly a counter-cultural stand, with on campus advocates for playing football in "a clean manner" and others claiming the importance of learning the game in order to qualify for high school teacher positions.
Read Tom's entire essay here. (He includes in-text citations that I've deleted for ease of reading — clearly, he's a much more dedicated scholar than I!)
Perhaps expectedly, Tom's post led me think about Messiah College, the school started by the Brethren in Christ (a spiritual cousin of the Church of the Brethren in many ways) that has also never had a collegiate football team.
As E. Morris Sider recalls in his history of the school, early opposition to sports came from the denomination's belief in utilitarianism: because sports did not have any particular "use," students were encouraged to spend their "outdoor time" doing other, more profitable activities: chopping wood, taking a walk, etc.1 This view reflected that of the larger church, which opposed such recreational pursuits as "worldly."2
(Attitudes began to change in the middle decades of the twentieth century, and by the 1980s the college was competing with other schools nation-wide in a number of sports. Today, as folks familiar with Messiah College will know, the school has a rather impressive athletics program!)
Unfortunately, Sider doesn't address the lack of a football team at the college. One is tempted to think that Messiah, like Elizabethtown College, might have have banned such activity not just because it was an organized sport, but because it was an organized sport that involved a significant amount of violence.
Of course, the presence of this photograph proves that by the 1950s at least some Messiah College students had begun to play the game on-campus.
Notes:
1. E. Morris Sider, Messiah College: A History (Nappanee, Ind.: Evangel Press, 1984), pp. 114-115.
2. Carlton O. Wittlinger, Quest for Piety and Obedience (Nappanee, Ind: Evangel Press, 1976), p. 122.
I first encountered the photograph in today's Photo Friday post in the Summer 2009 issue of the Brethren in Christ Historical Society's newsletter.