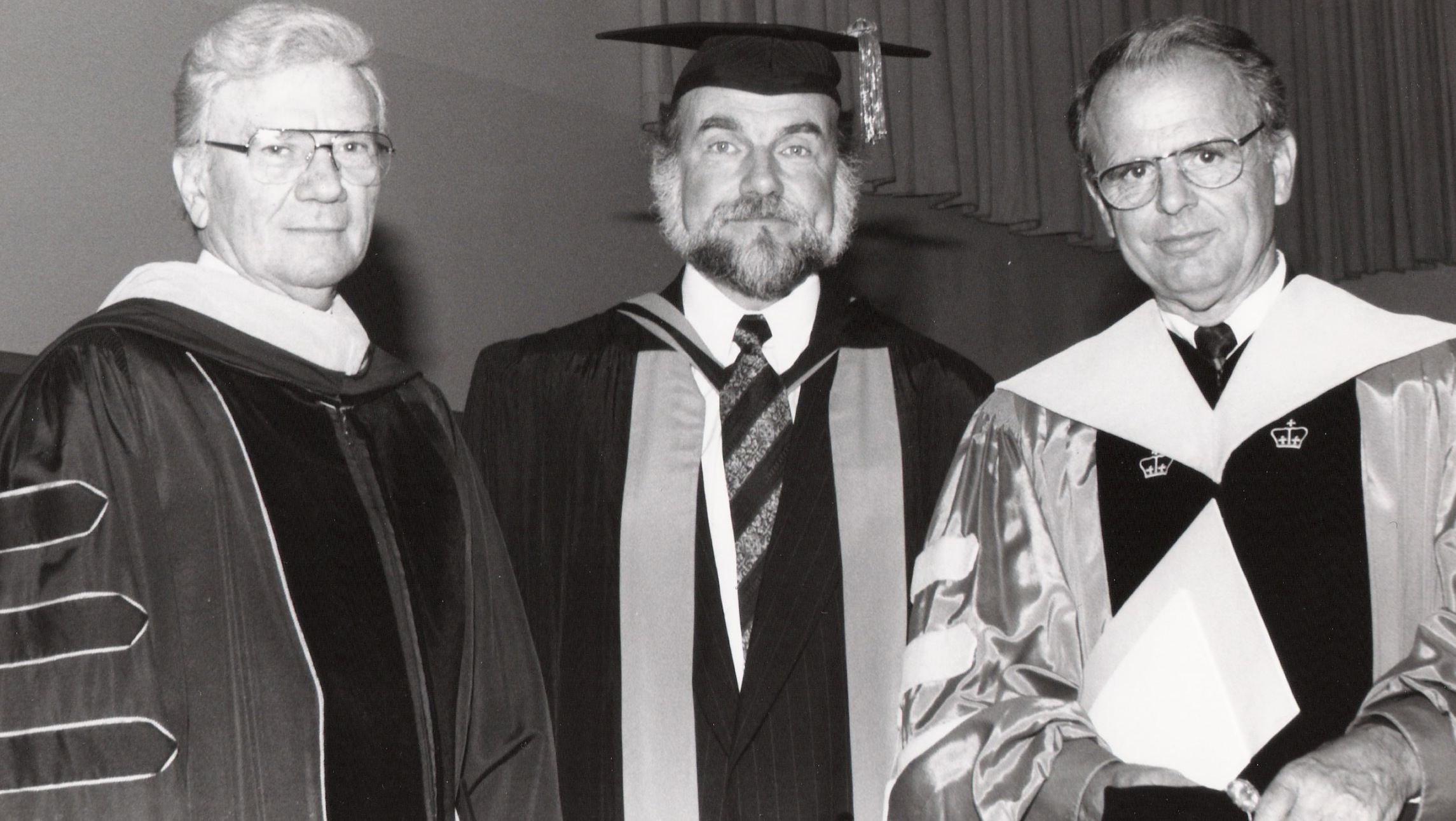 By the time you read this Photo Friday installment, I'll be at Cedarville University, where I'm participating in a two-day symposium on "Religious Roots and the Future of Higher Education." A handful of historians from Christian colleges and universities will be gathering to discuss their particular institutions and consider how their schools' religious roots can position them well for success in the 21st century.
I, of course, will be presenting a short paper on Messiah College's religious roots and institutional history. Today's Photo Friday captures a single scene from that paper: the inauguration of Messiah's seventh president, Rodney J. Sawatsky, who worked to help reclaim Anabaptism, Pietism, and Wesleyanism as central to the college's religious identity. (As most of my readers know, those traditions inform the identity of the Brethren in Christ Church; the Brethren in Christ Church launched Messiah College in 1909.)
Here's an excerpt from my paper that focuses on Sawatsky's contributions to college identity:
In 1994, the final year of his presidency, Hostetter worked with the Board of Trustees to initiate a study of institutional identity. The goal of this study was to articulate a new statement of identity and mission for the college. An ad hoc committee of faculty members, trustees, staff, administrators, and students worked with a wide array of college constituents to craft a new mission and vision statement. The statement reaffirmed the roots the college in the three religious traditions — Anabaptism, Pietism, and Wesleyanism — that inform the ethos of the founding denomination. Yet the statement also makes clear that Messiah is not simply a denominational school, but one that demonstrates an "embracing evangelical spirit" that welcomes a variety of Christian perspectives. . . .

Key to the re-articulation of institutional identity in this period was the appointment of the college's fifth president, Rodney Sawatsky, in 1994. Sawatsky was the first non-Brethren in Christ leader of Messiah College. A Canadian Mennonite with a Ph.D. in American religious history from Princeton University, Sawatsky was keenly interested in helping to formulate institutional identity. In his doctoral dissertation Sawatsky had argued that at times of uncertainty and crisis Christian communities have turned to history to define their identity, and he used American Mennonites as a case study of his assertion. Without a doubt Sawatsky saw Anabaptism, Pietism, and Wesleyanism as "usable pasts" for a Messiah College in crisis. In his inaugural address he called the Brethren in Christ tradition "a holistic vision of the Christian personality" and urged the college to strengthen its "historical [Brethren in Christ] connections."

Yet as one who had "drunk refreshingly from the wells of mainline Protestant, Catholic, and Orthodox spirituality," Sawatsky also emphasized the importance of diversity. "What I like about Messiah," he admitted early in his presidency, "is that it has not remained narrowly sectarian. I prefer a community where a variety of Christian traditions are represented."

Sawatsky played a key role in finalizing the statement mentioned earlier. His vision and the vision of the statement emphasizes ecumenical particularity — a blending of specificity and diversity. He, like others, saw this vision as befitting the contemporary makeup of the institution. Further, he saw this vision as consistent with the school's long history of nurturing tradition while also seeking progress.
I'll share more of my paper — and a report on the symposium — in a future post. Stay tuned!