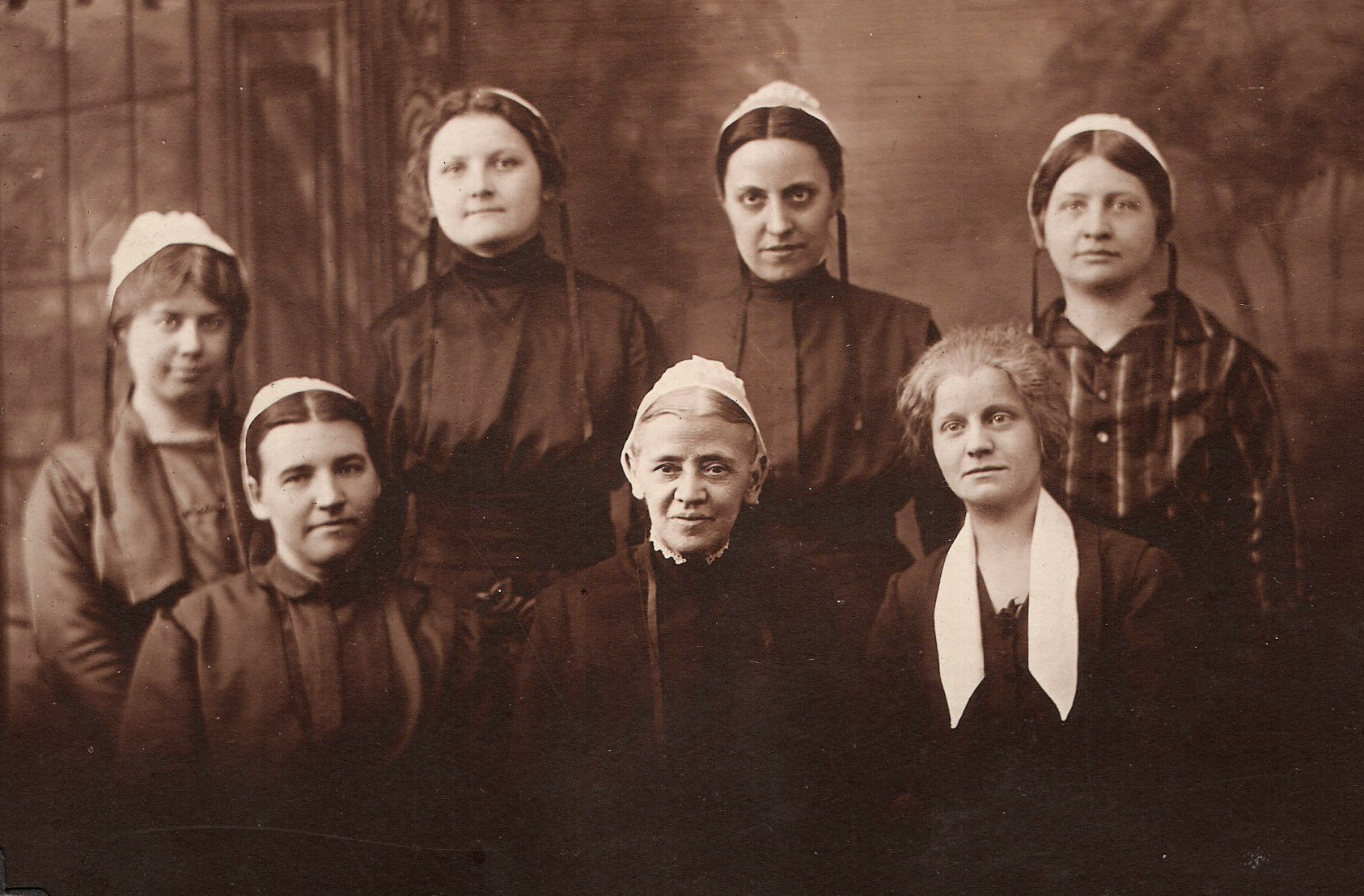 A few weeks ago, we shared about C.N. Hostetter, Jr., and his work among conscientious objectors during World War II. Today's Photo Friday features a similar story of caring focused on Sarah Bert, an important late nineteenth and early twentieth century Brethren in Christ urban missionary, and the Chicago "city women" among whom she ministered.
"Sister Sarah" — as Bert was often called — grew up in rural Kansas. She dressed plain (quite an anomaly in urbanizing, turn-of-the-century Chicago) and had a "timid spirit," according to her biographer E. Morris Sider, which often caused her to doubt her missionary abilities. But as Sider's narrative suggests, Bert also possessed a unique ability to connect with people different from her. Bert's organization of a sewing class for young urban women — a combination work training program and evangelistic outreach — demonstrates her capacity for this kind of work.
[In 1895,] Sister Sarah began [a sewing class for young women] with thirty-six students and six teachers . . .; the class eventually grew to nearly eighty.

This sewing group met weekly to work on old clothes donated by residents of the city and Brethren [in Christ] from around the country. The mended and altered clothes were then distributed to the poor. But the class also brought new material out of which members made aprons and towels, which they sold to friends.
Despite her visible commitment to the Brethren in Christ doctrine of nonresistance (evident in the photograph above), "Sister Sarah" was also a product of her time, as Sider's analysis suggests:
Aside from the clothing it provided for poor people, the sewing class was directed toward the moral improvement of the young girls. It was to assist them, Sister Sarah once explained, to escape the fate that surrounds them by learning how to be useful and to make a living. Sister Sarah conducted the class for several years . . .
As evidenced by the longevity and ever-increasing attendance of the sewing class, Sister Sarah was quite capable of creating an environment (both emotional and physical) that appealed to the urban women around her. A succinct evocation of this quality came from John R. Zook, a Brethren in Christ evangelist who visited the Chicago Mission in 1902:
It might be surprising to some to see how many of these young city women cling to our plain modest appearing Sisters [like Bert], and long to have them tell of the better way.
For more on Sarah Bert, see Sider, Nine Portraits: Brethren in Christ Biographical Sketches (Nappanee, Ind.: Evangel Press, 1978), pp. 17-45. (The quotes above come from this source, pp. 29-30.) For more on the effect of Progressive Era ideology upon the Brethren in Christ, see Paul Boyer, "Progressivism Brethren in Christ Style: An Early Twentieth-Century Sermon by the Rev. J.R. Zook," Brethren in Christ History and Life 30 (August 2007), pp. 161-173.