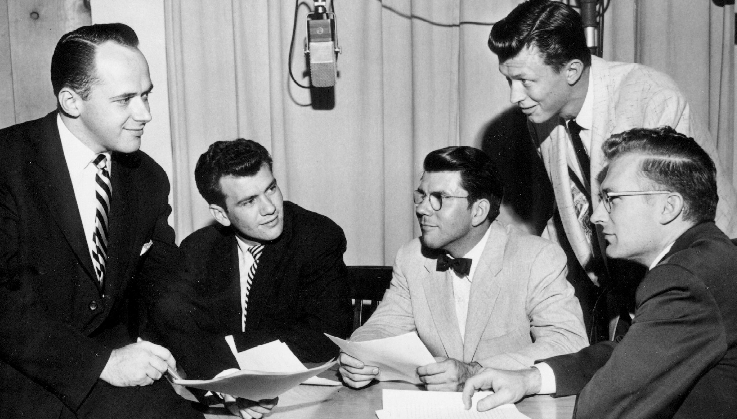 By the mid-1950s, the American Evangelical movement's interest in radio evangelism had spread into the ranks of the Brethren in Christ. In 1954, General Conference organized a Commission on Radio and soon thereafter recorded the first broadcast, featuring the preaching of pastor Owen Alderfer.
Despite initial complications, the denominational broadcast was eventually re-tooled, retitled "Gems of Grace," and prepared for release and distribution. As Carlton Wittlinger recounts in his denominational history, Quest for Piety and Obedience:
Owen Alderfer, [now] a faculty member at Upland College, was the radio minister. Some of his faculty colleagues were highly qualified in various phases of radio program production; futhermore, Upland College in conjunction with the Upland Church could provide quality music to support radio programming. These factors combined to make Upland, California, the point of origin for the broadcast. The initial funding came from Christ's Crusaders [the denomination's youth initiative], the General Executive Board, and Upland College. [1]
At the 1955 General Conference, the Commission on Radio expressed confidence that the "Gems of Grace" broadcast would soon be available to every district in the church. Unfortunately, their goal would never reach fruition. Wittlinger notes that "[r]adio stations were not generally interested in presenting the broadcasts on free time, and few areas of the brotherhood were willing to provide the needed financial sponsorship. During the Conference year from 1957 to 1958, the number of stations airing the programs declined from eighteen to nine." [2]
Eventually, in 1958, the Commission on Radio "bowed to the inevitable" [3] and ended the "Gems of Grace" broadcast. Shortly thereafter, General Conference encouraged regional conferences to take responsibility for producing evangelistic radio broadcasts for their respective geographical areas.
Notes:
[1] Carlton Wittlinger, Quest for Piety and Obedience (Nappanee, Ind.: Evangel Press, 1978), 310.