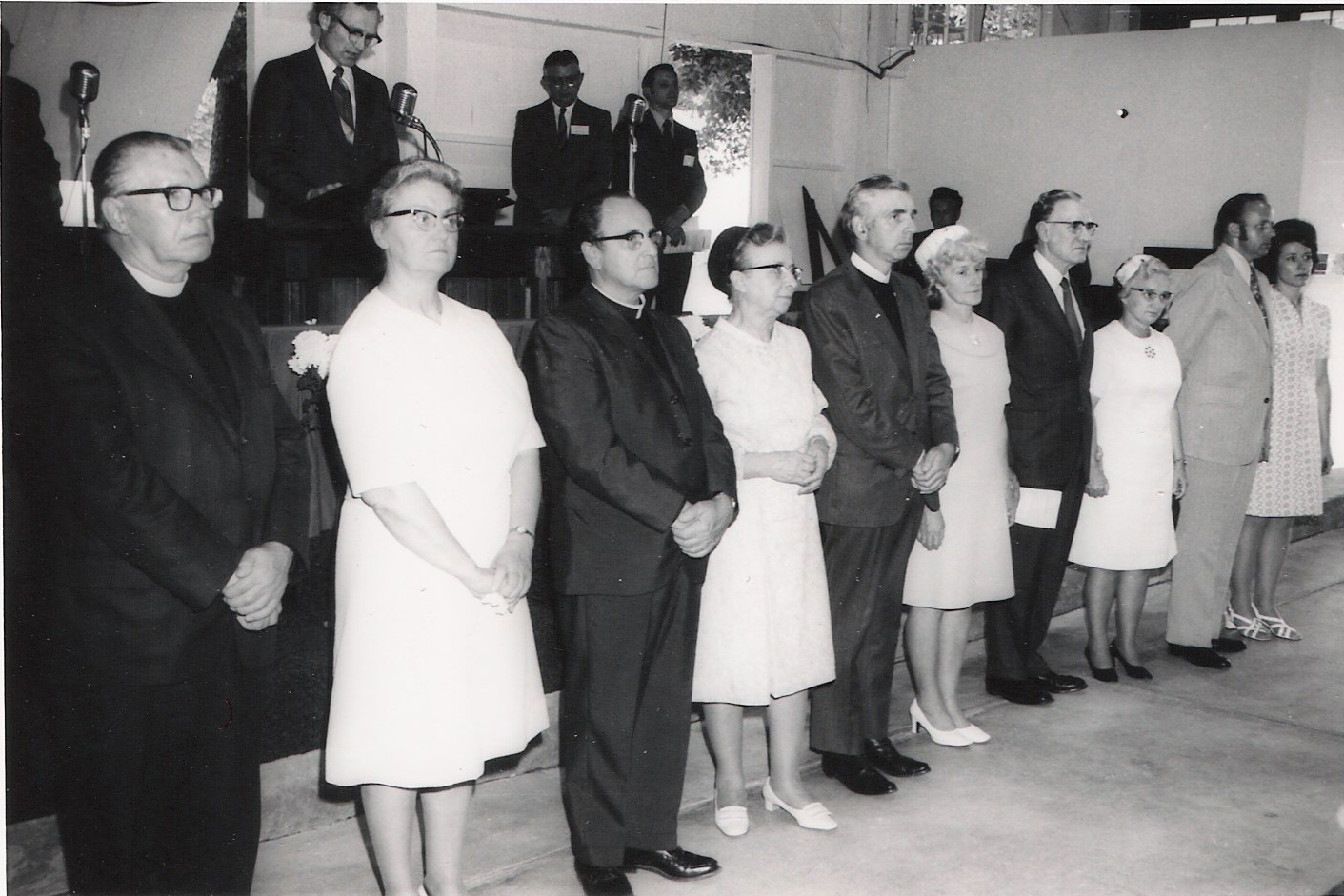 "Who were the Brethren in Christ in the 1960s?" Carlton Wittlinger poses this rhetorical question near the end of his magisterial Quest for Piety and Obedience. The query could easily be posed of the preceding decade (the 1950s) and the following one (the 1970s). Over this thirty-year period, the Brethren in Christ Church experienced incredible changes: massive growth in its number of congregations and its number of adherents; sweeping modifications of its doctrinal manual; and a gradual (and often painful) cultural shift from being a visibly "plain people" to looking like most other North American evangelicals. These dramatic changes resulted in what other scholars of the denomination have called an "identity crisis."
One element of this "identity crisis" — the confusion over the "how plain to stay" question — was quite visible during the 1972 General Conference of the Brethren in Christ Church, held that year at Memorial Holiness Camp in West Milton, Ohio. A collage of pictures could tell the story much better, but an enlightening synecdoche is provided in today's Photo Friday installment, which shows five Brethren in Christ bishops and their wives during a commissioning service.
Further analysis of the "identity crisis" at the 1972 General Conference, after the jump.
Note the different styles of dress. Ginder and Byers, certainly the longest-serving bishops to be commissioned that day, wear dark suits and the traditional, upright clerical collar, a common sight during the days when the Brethren in Christ Church formally forbade use of the necktie. Sider, the Canadian bishop, wears a slightly lighter suit with the clerical collar. Climenhaga and Shafer both sport contemporary suits with neckties — a sartorial choice that would have been extremely controversial in the denomination a decade-or-so earlier.
Interestingly, little variation characterizes the clothing worn by the bishops' wives; all five women wear modest, below-the-knee dresses, apparently without the traditional cape (the washout on some of the whiter dresses makes this fact difficult to confirm). Perhaps Marlene Shafer and Dorcas Climenhaga sport the most atraditional accessories: Marlene wears open-toed shoes (which contrast obviously with the more traditional footwear of the other women), and Dorcas wears what appears to be some kind of jewelry (broach?) at the neckline.
An important note: While it might appear (from this image) that both Ginder and Byers retain conservative positions relative to dress, both men had begun to wear the necktie in public appearances prior to this event. Byers began the practice as late as 1965; in that year, he wrote to the pastors of the Allegheny Conference (then his bishopric) that he would begin to wear the accessory when traveling and/or speaking outside the church. Ginder had also begun the practice some time earlier, when speaking with church groups from the larger evangelical realm; later that same year, he would wear a necktie while speaking at the 30th anniversary gathering of the National Association of Evangelicals.