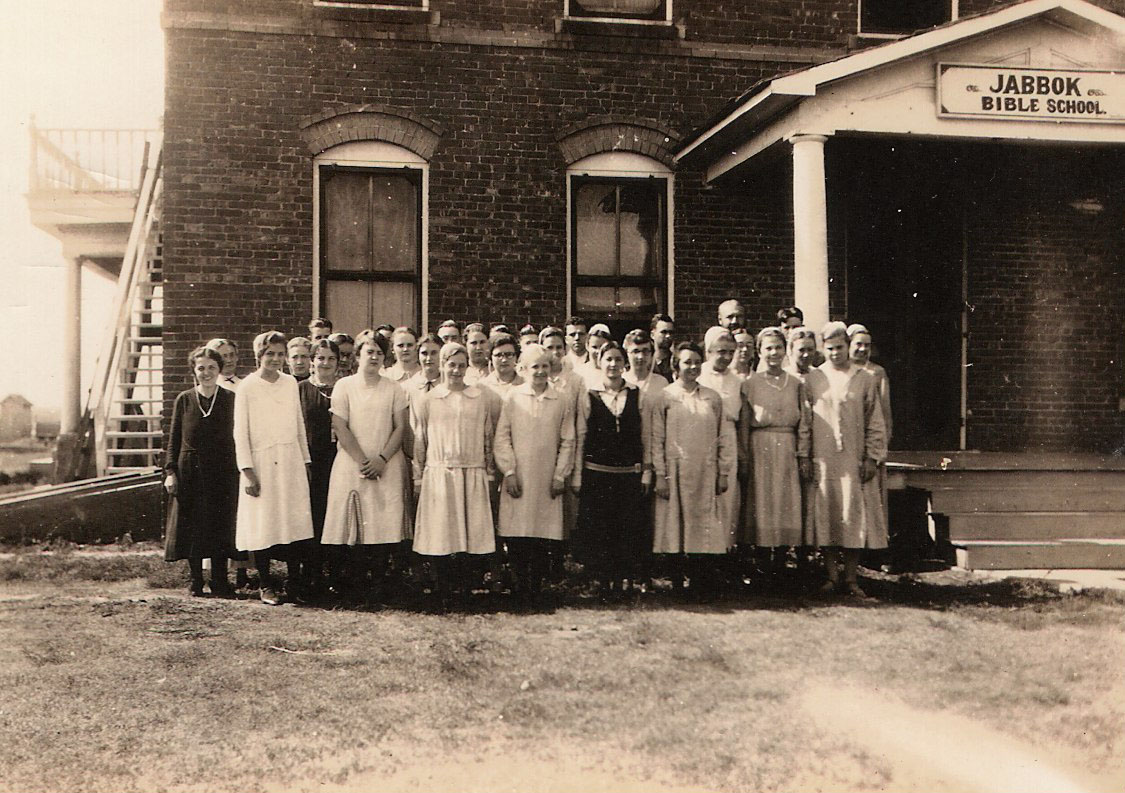 We've written before about Brethren in Christ educational institutions like Upland College, Niagara Christian Collegiate, and Messiah College, but we've only touched briefly on a fourth institution: Jabbok Bible School.
Jabbok, the brainchild of midwestern evangelist Abraham L. Eisenhower and his wife, Annie, operated in Thomas, Oklahoma, from 1925 to 1956. In his denominational history, Quest for Piety and Obedience (pp. 306-308), Carlton O. Wittlinger describes the school's genesis:

Jabbok Faith Missionary Home and Orphanage at Thomas, Oklahoma, closed in 1924, although children then in residence received care as long as necessary. This phasing out of the orphanage program occurred in the midst of agitation for a Midwest Bible School.

After the decision to terminate the orphanage, the Oklahoma Brethren decided to utilize its facilities for a school. In the summer of 1925, they hired teachers and made other arrangements to begin the program in September. The charter of Jabbok Faith Missionary Home and Orphanage was broad enough to provide legal authority for a school program. General Conference had no voice in the venture.

The two Brethren congregations in Oklahoma, Bethany and Red Star, with a combined membership of about 150, provided a narrow resource base for such an ambitious undertaking. In addition to generous donations of labor, supplies, and money, however, the school enjoyed the advantage of income from the former orphanage farm and dairy.
Wittlinger also describes the closing of the school:
Jabbok Bible School continued its educational ministry through three decades terminating with the 1955-1956 academic year. Then, because of student and faculty limitations, it recessed for the year 1956-57, while the Jabbok Board of Trustees and the [denominational] Board for Schools and Colleges sought to determine the best course of action for the future. When those boards concluded that student and faculty potential did not justify renewed operations, Conference confirmed the permanent closing of the school and directed the transfer of student records to Messiah College.
Wittlinger's description of the school's rise and fall provides a nice overview, but is in no sense comprehensive. A history of Jabbok could add to our understanding of the Brethren in Christ Church's educational initiatives in the twentieth century. Hopefully we'll be able to publish such an article in Brethren in Christ History and Life someday soon.