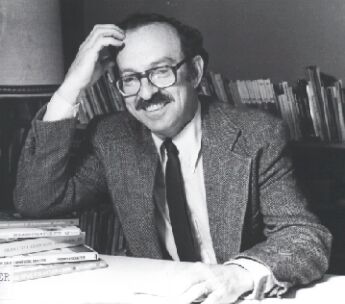 "When we, as Christians, think about peacemaking and social justice, we think about Ron Sider."
That's how Richard Hughes, distinguished professor of religion and director of the Sider Institute for Anabaptist, Pietist, and Wesleyan Studies at Messiah College, introduced theologian and Evangelicals for Social Action president Ronald J. Sider at Monday night's Schrag Lecture at Messiah College.
Hughes — himself a prolific and prophetic writer on Christianity in America — credited Sider with "holding the Christian community — and not just the evangelical Christian community — accountable to the biblical mandate to 'do justice.'"
Sider was at Messiah Monday night (and yesterday morning) to deliver a series of lectures on peacemaking. His evening lecture, titled "Reassessing the Early Church's Position on War, Abortion, and Capital Punishment," was drawn from his forthcoming book, which Sider described as an edited compendium of "every extant document" written by the pre-Constantinian Era Christian church "relevant to war, killing, and violence."
Contrary to the presentation's title, the majority of Sider's lecture focused on war and killing. In "reassessing" the early church's position on these issues, Sider engaged the two dominant schools of scholarly thought on the early church: those who contend that "all pre-Constantinian Christians were pacifists," and those who contend that the early church had a "divided and ambiguous view" of war, killing, and military service.
Ultimately, Sider challenged both of these views with two conclusions:
All extant Christian writings from the pre-Constantinian Era unequivocally condemn war and killing as inimical to the Christian way, and
By the fourth century A.D., a substantial number of Christians had joined the Roman army.
How can we reconcile this disconnect? Sider offered one solution: "Throughout Christian history, Christian laity have not lived as their leaders taught them to live. So we should not be surprised if the same pattern occurred in the early church." A familiar — albeit reasonable — explanation, especially coming from a scholar who has accused Christians of having a scandalous social conscience.
In the end, Sider steered clear of drawing any "present-day, life application" conclusions from his historical analysis. But the take-away seems obvious to me: if we are to reassess the early church's position on war and military service, we ought also to reassess our own position and action. How often has our doxy diverged from our praxis? How often have we neglected to follow the wise counsel of pastors, teachers, and intellectuals like Sider, especially on issues like peace and social justice? And how might we recommit ourselves to more faithfully pursuing Christ's peace in our world? Sider, for his part, has answered such questions before… but that's a topic for another lecture, and another blog post.
[Cross-posted at Mennonite Weekly Review and Shalom House]