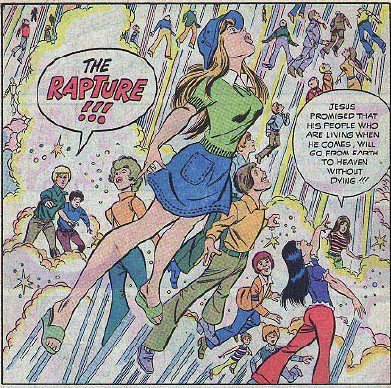 I'm currently researching an essay (tentatively titled "(Non)conformity at the Cinema: The Brethren in Christ (Don't) Go to the Movies, 1910-1980") that will examine the denomination's changing attitude toward theater-going during the twentieth century.
My research for this piece has been incredibly rewarding and quite interesting. I'm especially intrigued by a frequent refrain sounded by a number of individuals I've interviewed: their fear — rooted in the Brethren in Christ Church's premillennial dispensationalist eschatology and strict two-kingdom theology — that the second coming of Christ would occur while they were in the movie theater.
Of course, most of those espousing this fear grew up in a church culture that considered theater-going sinful (it was "of the world"). Thus, the logic progressed, being found at a theater during the second coming would prevent one from being "caught up in the air" with the rest of the saints.
We'll read some first-hand accounts of this theater-going guilt, after the jump.
Although she does not recall the first movie she saw or when she saw it, Dorothy (Witter) Schrag — who grew up at the Rosebank church in Kansas and served for many years as a faculty member at Messiah College — does remember exactly how she was feeling:
I was frightened when I first attended [the movies] and thought perhaps the Lord would come when I was in a theater.
Church historian E. Morris Sider echoes Schrag's sentiments:
That is a kind of . . . common reaction: the very first time you went to a movie, you had that kind of experience. . . . [I]t's the question of, "What would happen if the Lord would come and find me in the movies?" That is a kind of psychological thing: you want to be there, but in a way [you feel like] you're betraying your people, your church. There's just still the sense of just maybe you shouldn't do [it].
But perhaps the most interesting evocation of this sentiment comes courtesy of Beth (Kanode) Sider. As Sider recollects,
[When I was in elementary school,] my father was the executive secretary . . . of the Home Mission Board, so he went around to different churches, holding their council meetings. And the Philadelphia church was still Brethren in Christ; William Rosenberry was the pastor. So we were down there . . . and my father was having the council meeting that night, and we had dinner [with the pastor and the other mission workers]. . . . There was a picture on the wall — I still remember [where it was hanging on the wall], it's very vivid in my recollection — and [while] I looked at this picture, . . . one of the mission workers was there and she came over and said, "This is a picture of the second coming [of Christ]." It was a picture of a town or a city, the Christians were all going up in the air. And [the mission worker] said specifically, "Here is the theater. And nobody is going out of there."