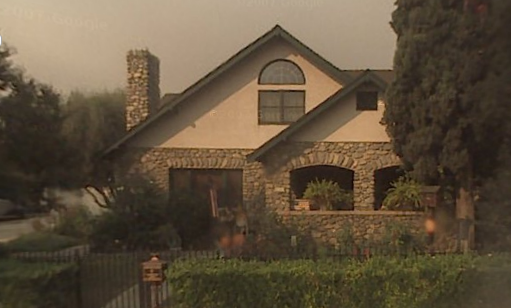 In the first decade of the twentieth century, Hiram Alderfer — a farm boy from Sounderton, Pa. — set out on a cross-country journey. Financing his trip by working at farms along the way, Hiram eventually settled in Upland, California, and became part of the Upland Brethren in Christ congregation. In 1915, he married Mary Frymire, a transplanted Oklahoman living in Upland.
Eventually, the couple — on the advice of C. C. Burkholder, the region's Brethren in Christ bishop — purchased a five-acre dairy farm and lemon grove on Baker Avenue in (what was then) Upland.
Biographer Daniel R. Chamberlain recalls their home:
Hiram loved the stone houses of Pennsylvania and decided to build a home faced with rocks taken from their Upland lemon grove. With input from Hiram and Mary, C. C. Burkholder drew plans for the new home and served as the contractor to construct it. The home had five bedrooms and one bathroom upstairs as well as one bedroom, one bath, a large dining room, kitchen, and breakfast area downstairs.
The house, at 8308 Baker Avenue, still stands as a historic landmark. A publication from the Rancho Cucamonga Community Development Department (CDD) describes the house this way:
A.J. Becker, a peach rancher, built the original structure in 1911. Sometime between 1911 and 1921, Hiram R. Alderfer took possession of the house.
The CDD's version of the house's background seems to differ dramatically from the one prepared by Chamberlain. Perhaps a more knowledgeable reader could provide some clue to who may be right?
You can read the entire historical summary of the Alderfer Home (as prepared by the Rancho Cucamonga CDD) here. To read more about the Alderfer family, see Daniel R. Chamberlain's biography of Owen H. Alderfer in Embracing Scholarship, Piety, and Obedience (Grantham, Pa.: Brethren in Christ Historical Society, 2009), 235-347. (The above quotation comes from pp. 238-239 of that text.)
HT to David Byer for sharing the original document on Rancho Cucamonga's historic landmarks.