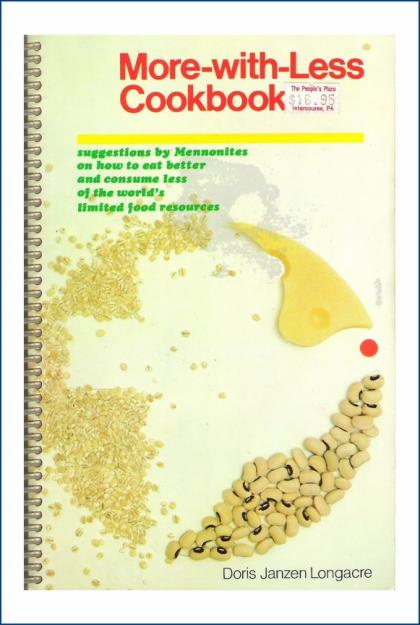 Some of my more Anabaptistically inclined readers might be interested in this post from David Swartz's blog. Swartz is a scholar of American evangelicalism, and his fascinating dissertation chronicles the emergence of the so-called "Evangelical Left." Among the many topics covered in his manuscript, Swartz discusses Anabaptists groups' involvement in this emergent movement.
Over at Toddlers and Scholars, Swartz offers a snippet about a lecture he recently delivered to faculty colleagues at Asbury University:
This morning I gave a lecture to the Asbury faculty. The title was "More with Less: What a Cookbook Can Tell Us about Religious Culture in the 1970s." Despite its preachy tone, unconventional recipes, and obscure Mennonite publisher, More with Less has sold about a million copies. In the lecture I tried to explain how that could happen in spite of these liabilities.
I love the front cover of the cookbook: it's pretty ugly, but it's rich symbolically. There's a globe to represent the globe, a dove to represent peace, a cross to represent an evangelical devotion to Jesus, and a bunch of beans to represent ecological stewardship.
Hopefully a full version of Swartz's essay will appear in the near future — either in article form or as part of his forthcoming manuscript from the University of Pennsylvania Press. In the meantime, I'm looking forward to reading Swartz's contribution to the recently released collection The Activist Impulse, "Rebaptizing Evangelicalism: American Anabaptists and the 1970s Evangelical Left." (Maybe he'll talk about More With Less in that piece, too!)