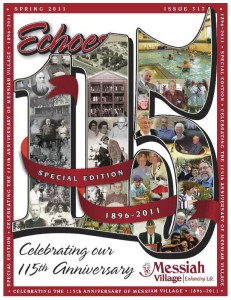 The latest issue of Messiah Village's quarterly newsletter, Echoes, is dedicated to celebrating the institution's 115th anniversary. According to the Messiah Village blog, the issue highlights "115 influential personalities — people, organizations, and even animals — who have contributed to Messiah Village in a meaningful or interesting way over the last 115 years."
As you might guess, the issue is full of amusing and informative anecdotes about Brethren in Christ people. Of interest to me were:
The story of Anna M. Zercher, one of the oldest-ever residents of Messiah Village, who lived to be 105 and broke ground for the Village's chapel addition at age 101. Her secret of long life? "Live for today and trust the Lord for tomorrow."
Rev. Martha L. Lady, who was, according to Echoes, "One of the first women in the BIC church to be licensed as a pastor" and "the first female pastor to minister at Messiah Village."
The example of Ray M. Zercher, a professor, artist, and writer, who in his lifetime penned a lot of studies of the Brethren in Christ Church and its institutions — including, in 1996, a history of Messiah Village.
Several friends of the search for piety and obedience — including Dorothy Gish and Paul & Lela Hostetler — are featured in the issue.
Congrats to Messiah Village! Read Echoes here.