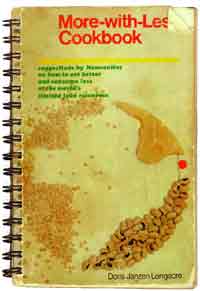 If you've been reading The Search for Piety and Obedience regularly, then you know that Asbury University historian David R. Swartz gave a fantastic Schrag Lecture at Messiah College earlier this month. (The Schrag Lectures are sponsored by the Sider Institute for Anabaptist, Pietist, and Wesleyan Studies, an on-campus research center I direct.) Swartz's talk focused on the intersections between Anabaptism and Evangelicalism during the 1960s and 1970s.
In his talk, he briefly mentioned More with Less, the Mennonite-published cookbook by Doris Longacre that inspired by Evangelical and Anabaptist audiences when it appeared in 1976.
Over at his blog Moral Minority, Swartz highlights the past and present popularity of More with Less among Christian "simple living" advocates:
Since 1976 the More with Less Cookbook has sold nearly a million copies to Mennonite, Christian Reformed, Covenant, Wesleyan, and Catholic churchgoers. Author Doris Longacre implored reader-chefs to live simply and eat ethically.

It continues to inspire today.
He explains this assertion by referencing a recent blog post by Ben and Heather Kulp of Boston, who have decided to connect their use of the cookbook with their Lenten observance. Here's a snippet of their idea:
For the next 40 days, we will be taking a Lenten journey through the pages of More-with-Less, cooking exclusively from the over 1,000 recipes Doris Longacre tested and published nearly 40 years ago. We will shop for local ingredients when we can. We will not eat out at restaurants. We will cook from More-with-Less for our friends and enjoy non-More-with-Less meals that others prepare in their homes—hospitality is one of the cornerstones of a more-with-less lifestyle, after all.
To read more of their reflection, click here.