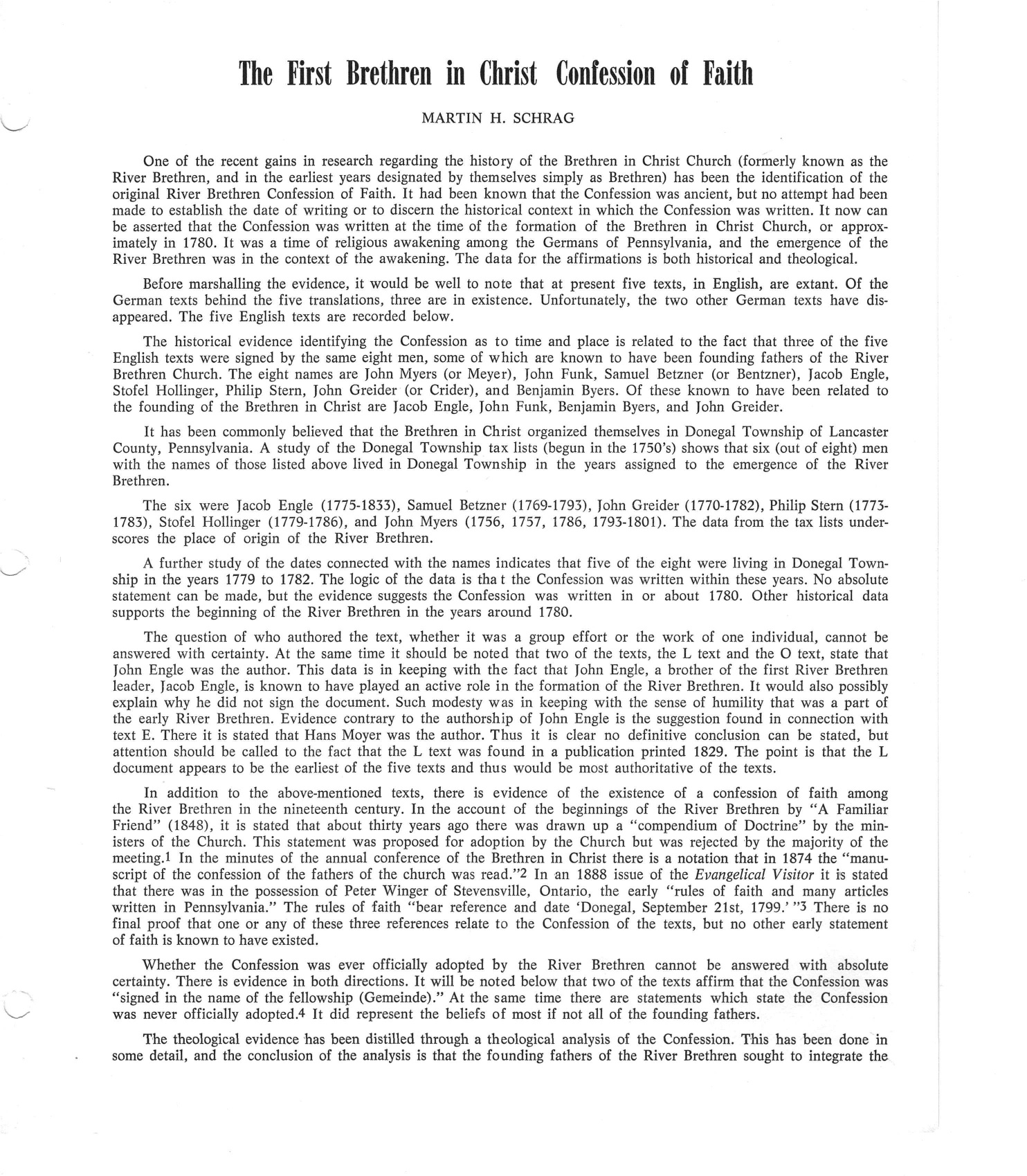 The earliest Brethren in Christ/River Brethren confessions of faith are now available online, courtesy of the Brethren in Christ Historical Library and Archives' recent digitization project.
The available confessions — five in all — were compiled and compared in the 1960s and 1970s by Martin H. Schrag, a Brethren in Christ historian and Messiah College professor. These documents provide significant insight into the character and convictions of those who came together in the late 17th century to form the River Brethren (later Brethren in Christ) communities.
Here's an excerpt from Schrag's theological analysis of the confessions (which is also available for download alongside the confessions):
The theological evidence has been distilled through a theological analysis of the Confession. This has been done in some detail, and the conclusion of the analysis is that the founding fathers of the River Brethren sought to integrate the Pietist emphasis of the deeply felt crisis new-birth experience with the Anabaptist-Mennonite understanding of the church and the relationship of the church to the world. The content of the Confession is at one with the Pietist concept of conversion and the Anabaptist view of the church.

These two traditions were active in Lancaster County in the decades surrounding the founding of the River Brethren. A Pietist oriented awakening transpired in those decades. The renewal was felt among the Pennsylvania Germans, including the Mennonites and German Baptist Brethren. The converts of the revival gradually crystallized as the United Brethren. The River Brethren were at one with the emerging United Brethren in relation to the understanding of the new birth. At the same time, they believed that the Bible called for a new corporate existence among Christians. Thus they combined the belief in the crisis new birth with the Anabaptist-rooted conception that the church is the new society living a life of brotherhood, love and mutuality. The church was to be the visible community of the redeemed living in keeping with the New Testament Church and under the guidance of the Holy Spirit. To the first River Brethren salvation was both an individual matter and a group reality. Christ calls people not only to personal holiness, but also into a new holy community.
Glen Pierce, denominational archivist, has provided the following instructions for accessing and downloading the confessions, using the Archives' online catalog:

Go to www.messiah.edu/archives
On the main Archives home page, click on "

Collections

" under the TITLE BAR.
Select "

Digital Collection

" which is the last item on the SIDE BAR.
Click on the "

Online Catalog

" link which is in the short second paragraph.  That takes you to the keyword search panel.  (Note, at this point, you can search for a variety of items if you know what you are looking for.  Or you can click on "Random Images" or go browsing through the various records that we have uploaded in our initial phase.  We have several hundred additional documents which will be uploaded, probably next week.)
To retrieve a copy of Dr. Schrag's comparison of various River Brethren confessions of faith — enter the keyword "Schrag" into the search bar.
On the Results screen, click on the underlined link:  

1000 0000 2078

That brings up the online version of our PastPerfect catalog record for this specific document.  You will note various items of information on the right-side panel, such as "Year Range" and brief descriptions of the various texts: B, L, C, E and O.   You can ignore the names of various people – those links are not yet active.
Scroll down to the bottom of the page and under the last heading (Document Download URL), press on the "

Click Here

" link.  That will download a searchable PDF document which you may then save to your computer.  It's a fairly large file, so it will take a few seconds (depending on the speed of your internet connection.)