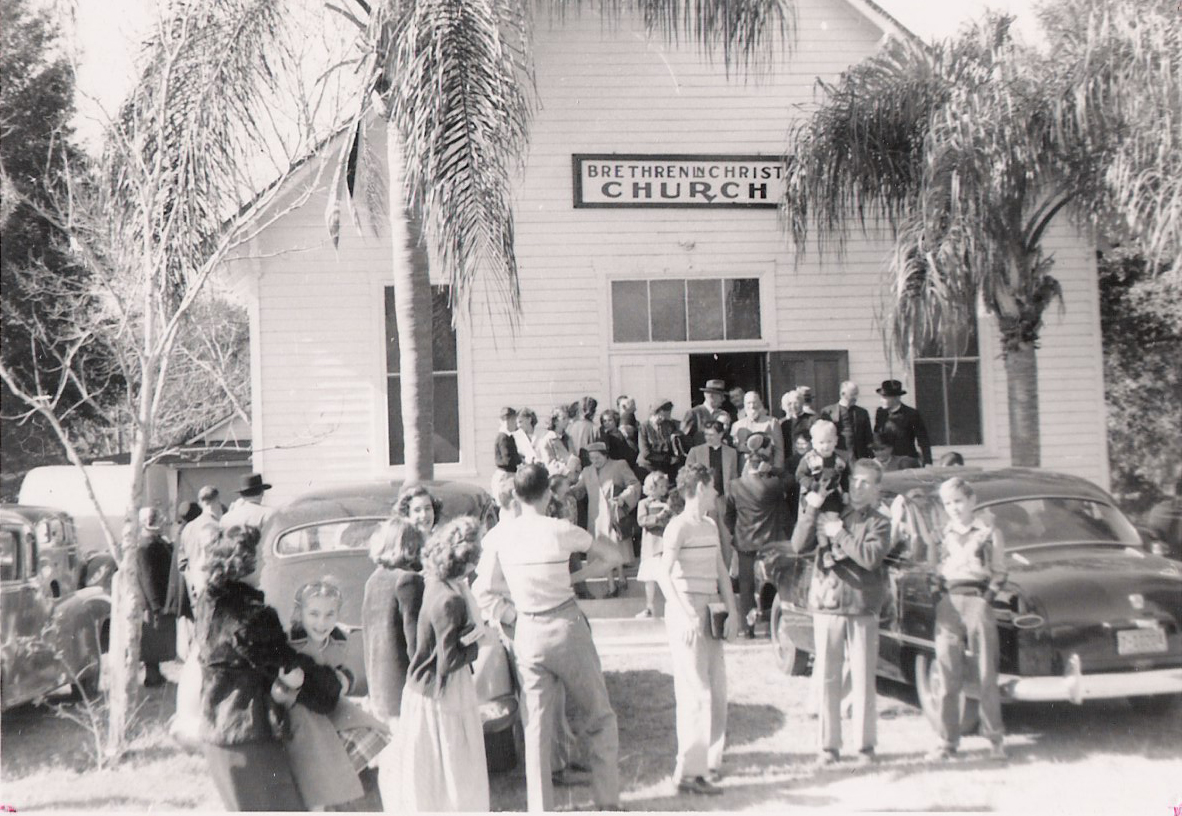 Most readers of The Search for Piety and Obedience know Ernest L. Boyer, Sr. as an educational pioneer, policy-maker, long-time Messiah College Board of Trustees member, and son of the Brethren in Christ Church. But did you also know that Boyer briefly served as a missionary and pastor at a small Brethren in Christ congregation in metropolitan Orlando, FL?
After the jump: the story of Boyer's brief pastorate, as told by his wife, Kathryn.
Boyer's wife, Kathryn, recently published her memoir, Many Mansions: Lessons of Faith, Family, and Public Service. (More on this book later!) In it, she shares vignettes of her many phases of life and service with her beloved Ernie: in Upland, California, during his tenure as a professor and dean at the now-defunct Brethren in Christ school Upland College; in upstate New York, during his tenure as chancellor of the State University of New York; in Virginia, during his tenure as Commissioner of Education; in Princeton, N.J., during his tenure as president of the Carnegie Foundation for the Advancement of Teaching; and beyond.
Even those familiar with Boyer's life and work might be surprised by her opening vignette: the story of her and Ernie's brief tenure as the missionary pastoral couple at the Brethren in Christ mission church in Orlando, Florida.
As Kathryn recounts:
We arrived in Orlando on Saturday [in August 1950], exactly one week after our wedding day, as we were expected to be there in time for Ernie to preach and take charge on Sunday. The former minister had resigned after some kind of disagreement with the mission board, and all but two of the families in the congregation had left. Ernie's assignment was to build up the remaining church. . . .

Our first impression of the little, white, traditional-looking church with the small steeple was surprisingly agreeable. I guess we expected it to be worn down like the parsonage. I don't mean to depict anything the least bit grand, but it was quite pleasant, and it felt of God's presence. This worshipful atmosphere helped to prepare our hearts to focus on our mission and not on ourselves.

The side walls had tall, plain glass windows. Rows of comfortable, polished wood benches filled the sanctuary, and the center aisle led to a raised platform and the altar railing. The pulpit was set back into a lighted alcove.

Ernie immediately tested the acoustics and announced they were more than satisfactory. He had spent the past two college years on debate teams that won state and regional awards, and the experience had made him aware that good sound quality was of utmost importance when speaking publicly. Of course, this was a very different setting, but the concept was clearly in his consciousness.

The next day, Ernie and I stood at the church entrance door waiting to greet people as they arrived. Eight people came and seemed very glad to see us. They were all members of the two families who had made the decision to remain and support the Brethren in Christ Church.

That Sunday, Ernie went behind the pulpit and honored that tiny congregation and the Lord with a simple and inspiring sermon. . . .

. . . I, along with the eight people seated in the two front rows, was moved and inspired. We sang and prayed together, and we felt bonded with a purpose. Ernie and I understood that God had placed us at this church to serve Him, and we undertook the task determined to give our all regardless of how many — or how few — people were in attendance on that first Sunday. [1]
Their humble commitment aside, the Boyers appear to have made significant strides in their brief time at the Orlando church — strides that suggest success in accomplishing their assigned goal of "build[ing] up the remaining church."
According to a report filed with the Brethren in Christ Home Mission Board at the close of their term of service, the Boyers managed to increase average Sunday school attendance from 26 (July 1950) to 97 (April 1951). Their record attendance high for Sunday morning service was 127 (compared to 8 that first day!), and they also reported "gratifying" attendance at the evening services and weekly prayer meetings.
More than these numbers, though, Boyer's brief term of missionary service captures a unique period in the history of the Brethren in Christ. Boyer's generation transformed the church community in significant ways. Only a few months before the Boyers' move to Florida, a handful of Boyer's contemporaries (and some from an older generation) attended a National Association of Evangelicals convention that proved ground-breaking for the denomination, and brought their changed perspectives back to their struggling denomination. Leaders of Boyer's generation would invent Brethren in Christ historiography, innovate church growth and outreach methods, and provide much-needed theological guidance for a church in cultural transition.
That Boyer would — as his 1951 report suggests — seek to "carry on an appealing youth program" [3] reflects his socio-cultural location, and perhaps the influence of the young-obsessed Evangelical para-church movement. (Think Youth for Christ and their efforts to "win" youth to an attractive old-time religion through a blend of Evangelical piety and pop culture.) This was an increasing concern for Brethren in Christ leaders of Boyer's generation. It resulted in the creation of Brethren in Christ initiatives like Christ's Crusaders, and accelerated many of the cultural changes initiated by the Brethren in Christ in the 1950s and 1960s.
For more on Boyer, his life, and legacy, check out Kathryn's memoir, now available from Abilene Christian University Press.
Notes:
[1] Kathryn Boyer, Many Mansions: Lessons of Faith, Family, and Public Service (Abilene, Tex.: Abilene Christian University Press, 2014), pp. 13-14.
[2] Handbook of Missions, 1951, pp. 87-88.
[3] Ibid., p. 87.