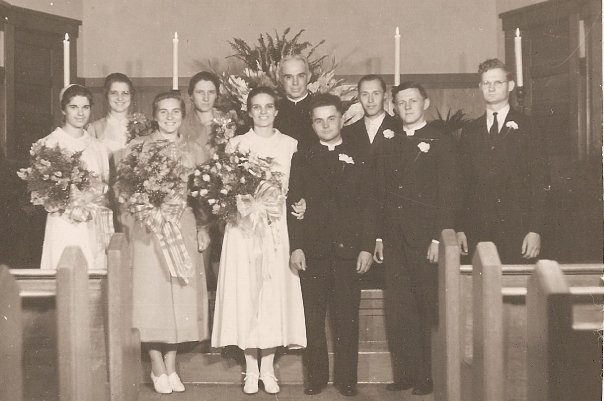 I'm in California for the next couple days, covering Pacific Conference's annual meeting as part of my job with the Brethren in Christ Church. So I thought it would be fitting to highlight a photo from our West Coast churches — and it just so happened that Harriet Bicksler, long-time editor of the Brethren in Christ social justice newsletter Shalom!, was all too happy to oblige!
Today's Photo Friday installment shows the wedding of Harriet's parents, Lewis and Gladys (Bohen) Sider, at the Upland (Calif.) Brethren in Christ Church in 1939.
Notice the beautiful, ornate bouquets — I certainly did. In this era, traditional Brethren in Christ wedding ceremonies were quite plain, in keeping with the group's historic emphasis upon nonconformity. Use of wedding rings, instrumental music, or other signifiers of vanity/"worldliness" were out of the question for the majority of Brethren in Christ couples. Even in the 1950s, as many traditional Brethren in Christ practices were modified as the fellowship sought greater identification with the American Evangelical mainstream, church leaders cautioned against "the increasing tendency toward elaborate weddings."
Of course, there were exceptions to the rule — and it seems, given this picture, that Upland was one congregation willing to break with tradition.