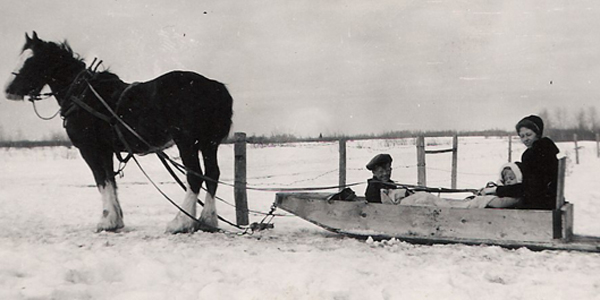 Over the past weekend, Philadelphia got more than a foot of snow — a lot less than other places on the East Coast, but still a substantial dusting.
But this number pales in comparison to what congregants of the Brethren in Christ Church's North Star Mission had to contend with. As today's Photo Friday installment shows, residents of central Saskatchewan braved all kinds of inclement weather — including considerable amounts of snow — to make their way to and from church in the 1930s and 1940s.
Here's a brief history of the mission, courtesy of E. Morris Sider:
[The] Saskatchewan Council in 1929 petitioned the Home Mission Board to provide a suitable worker to open a mission . . . [about] twelve miles northeast of the town of Paddockwood in the Howard Creek district. . . . The Board eventually responded by sending Leroy Yoder to minister from the summer of 1933 to May of the following year; he was followed in turn by Mabel Climenhaga and the Albert Cobers. During their eight year ministry, the Cobers directed the building of a mission home and a church building (completed in 1936 and 1942 respectively) . . .
For more on the mission, see Sider, The Brethren in Christ in Saskatchewan ([Saskatchewan, Canada]: Brethren in Christ Church, Saskatchewan, Canadian Conference), and Sider, The Brethren in Christ in Canada: Two Hundred Years of Tradition and Change (Hamilton, Ont.: Canadian Conference of the Brethren in Christ Church, 1988), 178-184. A complete history of the mission is Earl D. Brechbill, The North Star Story (Shippensburg, Pa.: Beidel Printing House, Inc., 1983).