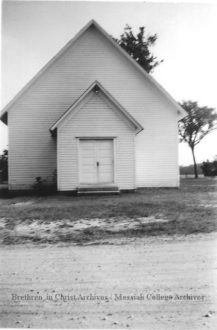 Michigan isn't often thought of as a major hub of the Brethren in Christ Church. Even so, the denomination has had a longstanding presence in the Wolverine State. The inaugural editor of the church's newspaper, Henry Davidson, published the first issues of the Evangelical Visitor in the town of White Pigeon. The General Conference of 1929 was held in a church member's barn near the town of Merrill. And for many years, city dwellers in Detroit converted to Christian faith at the church's God's Love Mission.
The first Brethren in Christ to settle in Michigan — Canadian emigres from from Markham, Ontario — made their way to the state in the mid-1880s. They first took up residence near Elsie, in the central part of the state, and established a congregation there. Over time, it came to be known as the Carland-Zion Brethren in Christ Church.
In late 2015, the congregation celebrated its 125th anniversary. Jonathan Stanton, son of the congregation's current pastor, described the church's history in a short article for the Historical Society's newsletter, "History Matters":
[The Carland-Zion church] was the first Brethren in Christ congregation in the state and played an important role in establishing other congregations in Michigan – many of which remain to this day.

Early members included the Jacob Meyer family, Bishop Samuel Baker, and Henry Schneider, Sr. and family. A thirteen-week revival meeting took place in a one-room schoolhouse in 1890 and construction began on the church building around the same time. The congregation had no resident pastor for many years, but services were led by various ministers with brief appointments. Shortly after the turn of the century, Michigan Bishop Jonathan Lyons served as pastor for nearly thirty years. During that time, Bishop Henry Schneider, Jr. also began his preaching ministry at Carland before moving to the Merrill congregation. Descendants of both the Lyons and Schneider families are still members of the congregation today.
The original church building remains in use to this day, despite some early twentieth century alterations:
A parsonage was built next door in 1948, and a fellowship hall was built in 1958. In the 1960s, the original church and fellowship hall were connected with a building that includes classrooms, a nursery, restrooms, and office space. At that time, the layout of the sanctuary was reversed, and the original entrance area became the pulpit/preaching area.
One church member paid homage to the historic church building in 1990, during Carland-Zion's centennial, with a poem titled "The Little White Church by the Crossroads." In part, the poem reads:
The years have slipped by, a century has passed,

The little white church is still standing fast.

In proclaiming the message of God's love for man,

And the blessings provided in His wondrous plan.

To those who pass by, it still points the way,

To life everlasting, and heaven some day!
As Stanton pointed out in his article on the 125th anniversary celebration, the poem "is still a fitting testimony of the church's . . . years of outreach to the communities it serves in mid-Michigan."