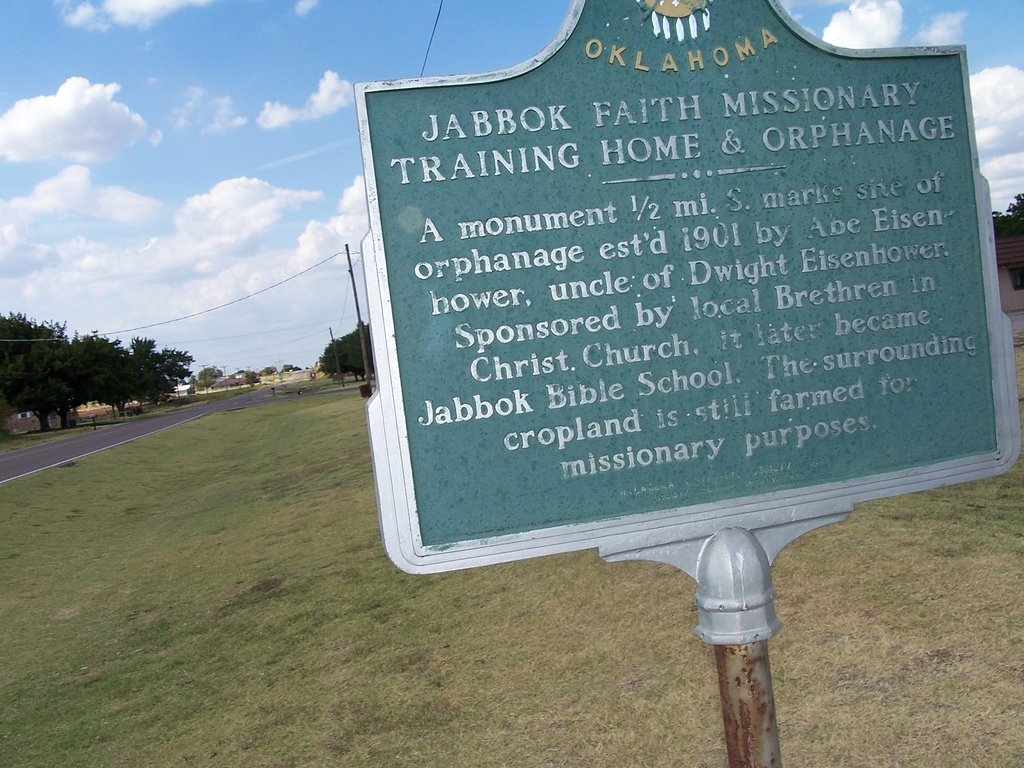 Today's Photo Friday installment highlights an historical marker in Thomas, Oklahoma, situated just a few miles south of the former site of the Jabbok Faith Orphanage and Missionary Training Home, a institution operated by the Brethren in Christ in the early part of the twentieth century.
In 1901, Abe Eisenhower — a colorful Brethren in Christ evangelist and uncle of U.S. President Dwight D. Eisenhower — and his wife, Annie, petitioned the Territory of Oklahoma for permission "to maintain a missionary home and bible school for the training of missionary workers for home and foreign mission work."
Granted a permit by the territory, the Eisenhowers operated Jabbok Faith Orphanage and Missionary Training Home until 1909, when transfer of ownership was shifted to the General Conference of the Brethren in Christ Church.
After the close of the orphanage in 1923, the church ran the Jabbok Bible School (in addition to two church-sponsored schools in Grantham, Pennsylvania, and Upland, California) until 1955. According to the site BlogOklahoma.us,
Approximately 305 students from 15 states attended Jabbok. Many of the graduates and students served as missionaries, church administrators, pastors, Sunday school teachers, church board members and Christian lay workers.
Interestingly, the site also indicates that "Since the closing of Jabbok, the members of the Thomas Brethren in Christ congregation have cultivated the land. [The] proceeds go the mission program of the church at large." I wonder if the church has continued this program since BlogOklahoma.us wrote their brief history in 2006.
For more pictures of the historical marker and the monument mentioned on the marker, visit BlogOklahoma.us. For more information on the history of Jabbok, see Carlton O. Wittlinger, Quest for Piety and Obedience (Nappanee, Ind.: Evangel Press, 1978), p. 270, 306-308.