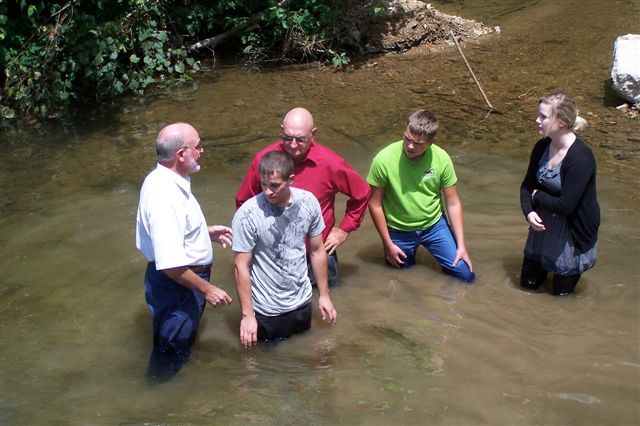 "A trip down memory lane" is how one Columbia Magazine reporter characterized the recent creekside baptism conducted near the Millerfield Brethren in Christ Church in Kentucky.
Admittedly, there is a certain nostalgia associated with the practice of creekside baptisms, especially among communities like the Brethren in Christ (not to mention Mennonites, other Brethren, and many Holiness and Pentecostal communities). Here at The Search for Piety and Obedience, we've written before about the Brethren in Christ's historical practice of baptizing new members in creeks, lakes, and other bodies of water.
But have creekside baptisms really been relegated to "the dustbin of history"? My sense is they have not. I know that my parents' church, Carlisle Brethren in Christ, regularly conducts baptismal services in the local Conodoguinet Creek. I believe the Grantham Church does (or did) regularly baptize new believers in the Yellow Breeches Creek on the Messiah College campus.
Readers: Do you know of other Brethren in Christ congregations that still observe baptisms in bodies of water (rather than church baptismals, etc.)? Do you recall these kind of creekside baptisms from your childhood? Share your thoughts and memories below!