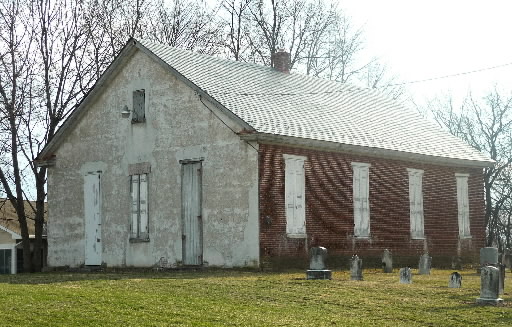 The Wenger Meetinghouse Preservation Association is attempting to raise funds to restore an historic Lebanon County church building known as the Wenger Meetinghouse, according to a recently published article in the Lebanon Daily News.
The building has historic significance for the Brethren in Christ Church and its antecedent group, the River Brethren.
From the Daily News article:
[The meetinghouse] was built in 1871, on the northwest corner of the original 170 acres of Hans Wenger's property in Swatara Township. Hans immigrated to this country in 1748.

[Preservation Association president Warren B. Wenger, Jr.] said the structure was used by a group known historically as Brinsers, or United Zion's Children. (Today this group is known as the United Zion Church). In 1977, the United Zion Church put the building up for sale, and the cemetery association purchased it, he said.

The church has pews and an altar and the original floorboards, he said.

The building was rented to a religious group in the 1980s, but that group stopped using it. It wasn't used again until around 2003, when the Wenger family began holding Sunday worship services there during reunions, which is about every third year. Wengers from around the country come to the reunion.
The association hopes to complete its restoration project before 2021, the 150th anniversary of the church.
The United Zion's Children, or Brinsers, broke off from the River Brethren community in 1855, after Matthias Brinser and some of his Dauphin County, Pennsylvania, followers erected a meetinghouse near Middletown, Pa. At the time, the River Brethren worshipped in homes or barns and eschewed the construction of church buildings as "worldly." The Wenger Meetinghouse was constructed by the Brinsers subsequent to their excommunication from the larger fellowship.
For more about the Brinser schism, see Carlton O. Wittlinger, Quest for Piety and Obedience (Nappanee, Ind.: Evangel Press, 1978), pp. 136-140.