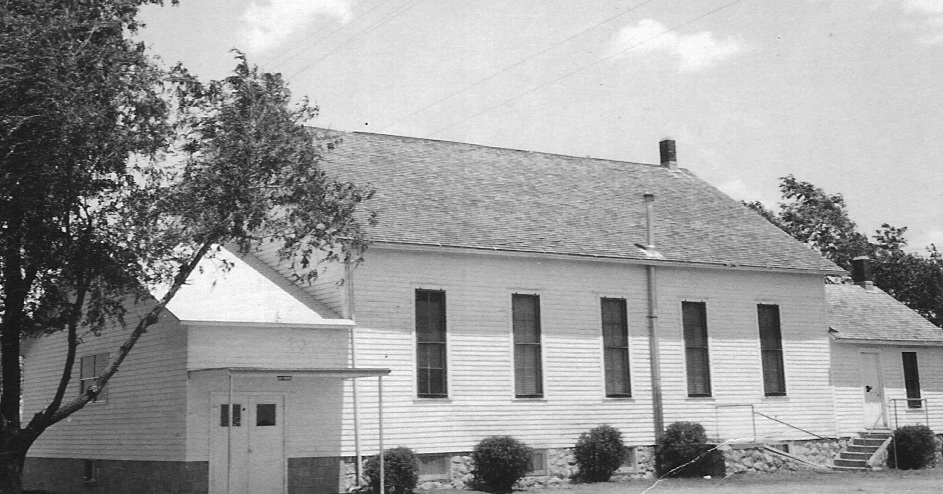 Last week, the Marion County Record carried this story about a father-and-son-effort to restore the former Brethren in Christ Church in Hope, Kansas. Here's a taste:
[Thane "Jay" Plank, 68, of Ramona] said he bought the building because his father, the Rev. Cecil Plank, served the church for 30 years. Jay grew up at Hope and graduated from Hope High School in 1960.

He and his parents later moved to California. After his parents'

deaths, their bodies were brought back to Kansas to be buried in the church cemetery.

"This is my roots,"

Plank said.

Plank'

s son, Justin, along with his fiancée, Alicia Youngberg, moved from Nevada to Ramona a month ago. All three have been working together to make the building usable again.
Learn more about the Rosebank church's history, and present efforts to restore the church building, after the jump.
Apparently, the Rosebank church was organized by the River Brethren who came to Kansas in the late 19th century. According to the article, <a title=""Such Dead Theology,"
or How an Emphasis on Ethics Saved the Brethren in Christ from Fundamentalism" href="http://devincthomas.wordpress.com/2010/01/15/such-dead-theology-or-how-an-emphasis-on-ethics-saved-the-brethren-in-christ-from-fundamentalism/" target="_blank">Abraham Lincoln Eisenhower– uncle to President Dwight D. Eisenhower and relation to Sarah Eisenhower, Plank's grandmother — was the church's first pastor. Abe Eisenhower went on to be one of the denomination's earliest (and most inventive) itinerant evangelists. He, along with his wife Annie and others, bought and toured the Midwest in a Gospel Wagon in the late nineteenth and early twentieth centuries.
The article continues:
Restoring the church has become an expensive, time-consuming project. Frozen pipes caused water damage, and ceiling tiles in the basement were moldy and had to be removed.

The Planks have repainted walls and cleaned up the overgrown landscaping around the church.

Father and son are hoping to have the exterior covered with a shiny, new coat of gleaming white paint by the weekend. They want former members and others in the community to come by and see the results of their labors and also are hoping others will be interested in becoming involved in keeping the church building viable.

Plank said when he heard the church was closing he knew the next likely step would be that it would be torn down, and he didn'

t want to see that happen. When he learned it was for sale, he bought the building from the church conference.

"They were glad to see us keep it here,"

he said.
It also shares a bit about Plank's future vision for the site:
Plank would like to see it used as a nondenominational or community church. If that does not happen, he said, it could be used as a community center for meetings and a place where young people could meet for social times and recreation. The carpeted sanctuary has no pews but would provide a large meeting room.
The article also includes a few quotes from my friend Deb Wiles, a current Brethren in Christ pastor in Herington. (I met Deb last spring while I was in New Mexico for the denomination's Midwest Regional Conference annual meeting.) Deb was the Rosebank congregation's last pastor before it disbanded.
Read the whole article here.