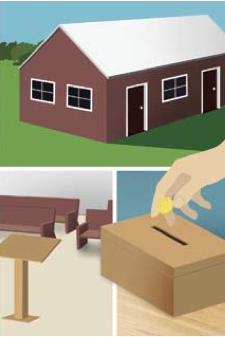 The Ringgold Meetinghouse, built in 1871, was one of the first buildings constructed by Brethren in Christ church members specifically as a place of worship. (Previously, members had gathered in homes and barns.)
Though the church closed in the 1960s, the meeting house remains as a physical reminder of Brethren in Christ heritage. Renovated and restored to its original interior arrangement (including original furniture) in the 1970s, it now serves as a location for annual services and a hymn sing (both sponsored or co-sponsored by the Brethren in Christ Historical Society).
But the meeting house acts in another way, also. As E. Morris Sider argued in a 1995 essay, "Ringgold Meeting House as Symbol," the building "nicely symbolizes historic principles and practices of the Brethren in Christ."
Here's a taste of Sider's article:
The building is a symbol of early Brethren in Christ simplicity. Outside, the structure is simple in design. The most elaborate part of the exterior is the cornice in which the bricks are arranged differently from the bricks in the wall, although even here the arrangement is only moderately different. The shutters may strike us as ornamental until we realize that, for those early days, [they] served the practical function of protecting the window[s] when closed, as they were in a meeting house for much of the time.
Read an edited version of Sider's article (focused on issues of accountability and published in the Summer 2008 issue of In Part magazine).
You can also read the entire article in its original form.