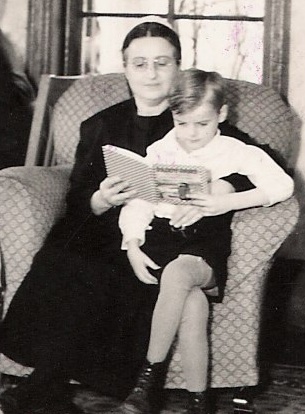 On May 8, 1945—66 years ago yesterday—the War in Europe ended. Amidst news that both Benito Mussolini and Adolf Hitler had been killed, millions of Westerners flocked to public places — London's Trafalgar Square, New York City's Times Square, and others — to celebrate the Allies' victory.
Reports of these demonstrations made their way from the capitals of Europe to the tiny hamlet of Granthan, Pennsylvania. There, a group of plain-clothed Brethren in Christ had gathered for a quiet prayer meeting to observe the war's end. One woman in attendance—Anna (Lane) Hostetter, the wife of Bishop and Messiah Bible School President C.N. Hostetter, Jr.—recorded a portion of the day's news in her diary: "Mussolini and his mistress were shot—she is only 25. . . . They were kicked, spit upon, etc. and hung up by their heels after death."
Despite the Twitter-like brevity of this entry, the words still carry considerable weight. I read them as filled with despair, confusion, and revulsion—the writer is horrified that throngs of people would so proudly and so publicly revel in the taking of human life.
Why would Hostetter record these seamy details, and little else? Her words suggest that the Brethren in Christ — unlike many Americans — greeted the Allies' military achievement not so much as a victory but as further evidence that violence begets violence, and that the conclusion of active warfare does not mark the beginning of peace.
Hostetter's diary also suggests that many non-Brethren in Christ people attended the Grantham congregation's prayer meeting: "A number of people were at the meeting—town people." Perhaps these "town people" came to the meeting looking for some consolation from the peaceable "plain people."
I read this journal entry — quoted in M.J. Heisey's Peace and Persistence: Tracing the Brethren in Christ Peace Witness Through Three Generations — with great interest yesterday. Given recent events, the words seemed to me to possess both historical meaning and contemporary relevance.
Heisey's treatment of Brethren in Christ reactions to the close of World War II is quite revealing, and worth a read, for those who might be interested.