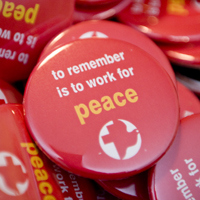 Yesterday was Veteran's Day in the U.S., and Remembrance Day in Canada — both days of commemoration set aside by the respective national governments to honor the service of those in the armed forces, past and present.
In a recent post at his blog, The Meeting House teaching pastor Bruxy Cavey asks the question, "How do pacifists relate to Remembrance Day / Veterans Day?" Here's a taste of the post:
Occasionally, I'm asked if a peace church like ours that promotes non-violent enemy love should pause to commemorate Remembrance Day or if individual Christ-followers should wear poppies and participate in Remembrance Day events.

Pacifists, like anyone, have differing opinions – there is no one right answer. But my approach, and our approach at The Meeting House, has always been to use Remembrance Day as an opportunity to do just that – remember.

Memory can be a powerful motivator to work for peace. Even though we may have ideological differences with those who would fight in a war, and even though we may not honour their willingness to KILL for a cause, we still honour and respect their willingness to DIE for a cause. On that point we are in full alignment with others who participate in Remembrance Day events.
Read the whole post here.
An important message for Brethren in Christ people on both sides of the 49th Parallel.