Welcome to our new website! The launch of bic-history.org is the final piece in our lengthy process to establish a new visual identity and strong brand for the Brethren in Christ Historical Society.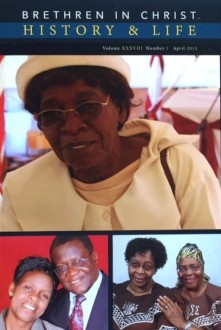 The first piece was the logo, created by Brianna Jewell early in 2014 as an assignment for a graphic design class at Messiah College. During the summer of 2014, we launched a Facebook page, and we commissioned Brianna to redesign our newsletter (under the new name of "History Matters") and journal, Brethren in Christ History and Life, both of which we launched earlier this year. And now we introduce a brand new website.
The website includes several new features not previously available on our old site. First, we are pleased to announce that the blog, "The Search for Piety and Obedience," created and previously administered personally by our assistant editor, Devin Manzullo-Thomas, is now part of our new site. (Select past blog posts from the earlier site will also be available here.)
The blog is just one example of the interactive nature of the site, where we invite comment from our readers. You'll also be able to comment on newsletter and journal articles. We're also interested in guest bloggers. Let us know if you have something about Brethren in Christ history and life that you'd like to contribute.
Although the feature is not yet complete, we will soon be able to offer complete online issues of the journal, Brethren in Christ History and Life, to members of the Historical Society. Starting with the April 2015 edition, the editorial and one featured article from each edition will be available to everyone, and all other articles and PDF versions will be available to members only. (PDFs only of issues from August 2012 to December 2014 will also soon be available online to members.)
We are still working on two other features of the site: the photo archives and an online payment system for membership renewals and contributions to the Historical Society.
Let us know what you think in the Comments section below!