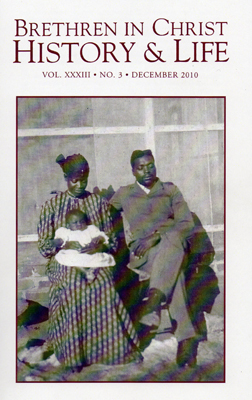 The perfect after-Christmas present! The December 2010 issue of Brethren in Christ History and Life found its way into my mailbox last week.
There's so much to like in this issue!
• Susan Kreider Getty's "Word, Wit, and Wisdom." My friend Susan Getty writes beautiful poetry. I am so glad she had the chance to share her amazing talent with the readers of the journal. Of the pieces she published here, my favorites were "New Mexico" and "My Son." I so appreciate the way she captures the dynamism of a small, barely perceptible moment or feeling and expands upon it. Check out more of her beautiful poetry (and visual art!) at her blog, Pilgrim's Poems and mental meanderings. (Be sure to check out "birthday" in particular.)
• Alan Claassen Thrush's "A Courageous Choice: Being Brethren in Christ in Nicaragua." Having served in Latin America for three years with Mennonite Central Committee, Alan Claassen Thrush is ideally suited to write about what it means to be Brethren in Christ in Nicaragua. In this fascinating exploration of personal identity, religious affiliation, and national culture, Alan introduces us to Norlan Fernandez. In North America, Norlan's vocation might be described as "bi-vocational pastor": though he serves his congregation as an evangelist, counselor, and preacher, he earns a living for his family by working as a cambista, or moneychanger. As a cambista, Norlan transports significant amounts of money between banks — a dangerous occupation, and one that makes him vulnerable to thieves. Yet instead of arming himself with a pistol — as many cambistas do — Norlan believed that his Christian faith compelled him to refuse such armament and trust in God for protection. His story, as Alan tell is, is a compelling portrait of one believer practicing peace in a difficult context.
• Dwight W. Thomas' "A Biographical Sketch of David (Ndhlalambi) Moyo: Early African Mission Worker in the Brethren in Christ Church in Zambia." While much has been written about the early North Americans who established Brethren in Christ mission stations in present-day Zimbabwe and Zambia, little has been published on the African Christians who assisted these white missionaries. With this biographical sketch of "the most important early African Brethren in Christ mission worker at Macha Mission," Thomas seeks to "obtain a better and more complete understanding of early mission life in African and the relationships between Africans and missionaries." With this insightful and dutifully researched piece, he succeeds.
• Donna F. Wenger's "God's Way Is the Best Way: A Biography of David and Dorcas Climenhaga." I have had the privilege of meeting and chatting with David Climenhaga on more than one occasion; each time, I am overwhelmed by his recall and enthralled by his stories of the Brethren in Christ Church in years passed. I've even had the opportunity to read through his unpublished memoirs. So I found this biographical sketch of David and his late wife, Dorcas, particularly fascinating. And it just so happens that Donna (Climenhaga) Wenger, a friend of the search for piety and obedience, is the author! You can read excerpts from the biography at Donna's blog: here and here.
• In addition to the articles, there's also a thoughtful review of Eric Seibert's controversial Disturbing Divine Behavior, a book that seeks to reconcile the nonviolent Christ of the Gospels with the seemingly violent Yahweh of the Old Testament. Having not yet read Seibert's book but having heard plenty about it, I was glad to discover this thorough analysis.
Readers: What are your favorite articles in this most recent issue of the journal, and why?