by Beth Hostetler Mark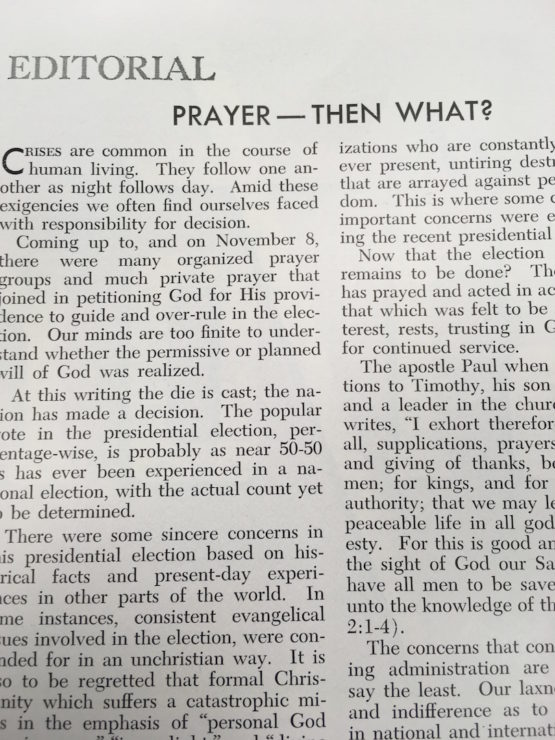 As a volunteer in the Brethren in Christ Church and Messiah College Archives, I am currently working on indexing Evangelical Visitor articles from the 1960s. Last week, I came across an editorial ("Prayer – Then What?" See image at left) by John N. Hostetter, in which he attempts to make sense of the very recent election of John F. Kennedy as president. It is written very carefully, but provides a rare inside look at the political leanings of, one assumes, many Brethren in Christ people. Parts of the content could have been written about the 2016 presidential campaigns!
As a bit of background to the Kennedy-Nixon campaigns, I remember my father, Paul Hostetler, telling me how concerned Protestants were that a Catholic might be elected, with some expressing the fear that "the Pope would be running the White House." Author Shaun Casey, in The Making of a Catholic President researched the use of carefully worded anti-Catholic rhetoric used by the Nixon campaign. Casey revealed organized mainline Protestant denominations' involvement in the Nixon's campaign. He also discovered that Norman Vincent Peale, Billy Graham, and the National Association of Evangelicals were involved. I do not know the extent of Brethren in Christ involvement with such efforts, although John Hostetter provides hints.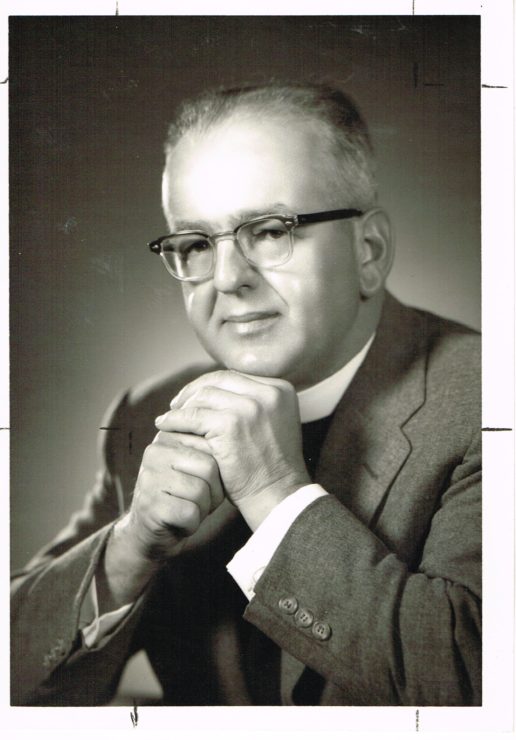 John Hostetter begins his editorial by describing what could be inferred to be at least some Brethren in Christ involvement with other Protestant churches' political concerns prior to the election: "Coming up to, and on November 8, there were many organized prayer groups and much private prayer that joined in petitioning God for His providence to guide and over-rule in the election." The following sentence provides an interesting comment about God's will, reminding me of recent (since 1980) debates about "open theism." Hostetter states: "Our minds are too finite to understand whether the permissive or planned will of God was realized."
Reminiscent of the 2016 presidential campaigns, Hostetter expresses regret about the tenor of some Christians' rhetoric, observing that although Christians had "some sincere concerns …. In some instances, consistent evangelical issues involved in the election, were contended for in an unchristian way."
In the second half of the editorial, Hostetter attempts to identify ways for Christians to move forward: "Now that the election is over, what remains to be done?" One of his responses again relates to God's will: "Who knows but what God permitted the outcome on November 8 as a special incentive for continued prayer and intercession." In the following, the name of president may be different, but the sentiments are the same as many Christians are expressing today: "It is urgent that such be made to God for President-elect John Kennedy. The choices for the Cabinet are of tremendous importance. Pray that such may not be merely a political award but that they may be for qualified persons."
Hostetter begins his concluding paragraphs by trying to put a positive spin, in an almost shocking way, on president-elect Kennedy, "We should thank God that we did not elect a dictator." He continues, reminding readers to pray for the nation's representatives and senators. With a final reference to God's will, he concludes, "Indeed, all of these are men—mere men—but God has a divine arrangement whereby He can guide the course of men. Our primary responsibility now is to pray, pray for 'those in authority.'"
Source: Hostetter, John N. "Editorial: Prayer—Then What?" Evangelical Visitor, November 28, 1960, p.2.
Beth Hostetler Mark recently retired from many years as a librarian at Murray Library at Messiah College. She also serves as secretary of the Brethren in Christ Historical Society board and attends the Grantham Church.