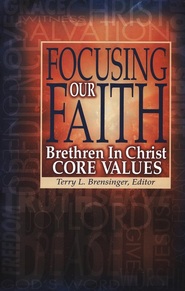 About fifteen years ago, a group of Brethren in Christ folks from the U.S. and Canada gathered to discern those values that bind us together as a church community. The result was a list of ten Core Values, succinctly stated and then expanded upon in an accompanying book.
Since 1999, the Brethren in Christ Church has repeatedly (perhaps even ceaselessly) emphasized these Core Values as key to understanding who the Brethren in Christ are as a community. The denomination offers a study course on the values, and has developed also a Sunday school curriculum based on them. Each issue of the denominational magazine, In Part, focuses on and helps to unpack another of the values. And many pastors throughout the denomination have preached sermon series on the values.
But what do these Core Values tell us about the character of the Brethren in Christ community? Is there anything about them that's unique? For instance, don't all churches "believe the Bible"? Don't all churches emphasizing "following Jesus"? Or, on a different note, is there anything about these values that help the Brethren in Christ do mission more effectively in the 21st century?
In other words, what's the real value of these Core Values?
Over at his blog Threads, current Brethren in Christ national director Alan Robinson reflects on a recent presentation on the Core Values by Perry Engle, bishop of the Midwest and Pacific Conferences of the Brethren in Christ Church U.S. Alan notes that, according to Perry, there are at least four "things to like" about the Core Values:
Our Core Values are experiential, not just doctrinal. Our faith is not something we only believe; it is something we live out.
Our Core Values are rooted in community, not just in individual experience. Our faith is not simply something we do by ourselves, but something we do together.
Our Core Values reflect the life and teaching of Jesus. Our faith is not only rooted in Scripture, but it is also centered in Christ.
Our Core Values are completely relevant for today's world.
Readers: What do you think? What — if anything — makes the Brethren in Christ Core Values "unique"? In what ways do they position us for effective ministry in our contemporary world? Do you find yourself resonating with the values? What would you add, if you could add anything?